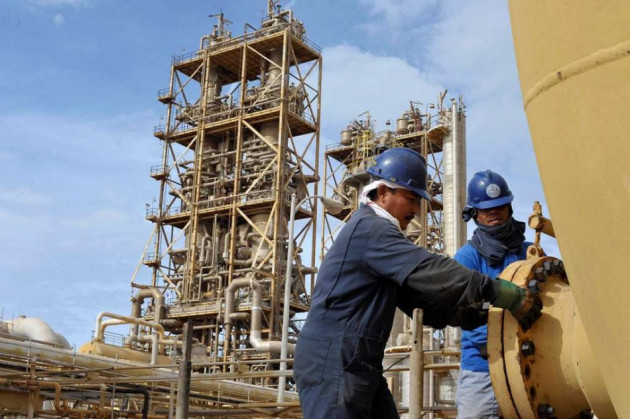 Global crude oil futures finished lower for the week after US data showed that inventory surged amid lower crude imports and slightly lower oil demand in the country, the world's largest consumer of oil.
Futures were also pulled down after the US dollar strengthened against the euro, propped up by positive factory data from the world's biggest economy.
The December US crude oil contract fell $1.77 or 1.8%, to finish at $94.61 a barrel on 1 November. Prices were down 3.3% for the week.
The December Brent crude oil contract dropped $2.93, or 2.7%, to settle at $105.91 a barrel on 1 November. Prices were down nearly 1% for the week.
Data from the US Energy Information Administration showed that crude supplies rose by 4.1 million barrels in the week ended 25 October. Analysts polled by Platts had forecast an increase of 3.5 million barrels.
Crude-oil imports into the US in August, which edged up from July to a nine-month high, were 6.5% lower than a year ago.
US government data also showed that oil demand in August, which struck a 12-month high that month, was still 0.3% lower than a year ago.
The greenback advanced following news that US factory activity expanded further in the month of October -- a stronger dollar makes dollar-denominated oil more expensive for foreign investors.
Elsewhere, North Sea Brent got some support from the ongoing supply disruptions in Libya.
While Nymex crude prices continued "to be weighed down by higher refinery maintenance in the US and the associated build in crude stocks seen there in the last two weeks, the Libyan supply situation is rather more bullish on the other side of the Atlantic", analysts at Germany's JBC Energy said in a note to its clients.
"With supply decimated, the Libyan government's latest efforts to find a solution for the problems have so far been met with indifference," according to JBC Energy
"Supply continues to dominate the direction of trade and, after seeing a build in the EIA print Wednesday morning, the bears retook control of the consolidating market," said Tyler Richey, analyst for the 7:00's Report.
"We expect the trend to continue with a target of the $92.50 level," Richey told MarketWatch.
Libyan Exports
Libya hopes to resume oil exports from its Mellitah port within eight days.
Libya, which accounts for over 1.5% of global oil output, is now shipping around 150,000-200,000 barrels a day (bpd), much lower than its 1.25 million bpd capacity, according to Reuters.
Protesters demanding more political rights and strikes over pay have hampered oil production and exports from the Opec country.