Crude oil futures traded lower on 13 March, and finished lower for the week, after a report from an energy watchdog fuelled concerns that the global supply glut and a dearth of storage capacity in the US could push down prices further.
Brent April contract finished $2.41, or 4.2%, lower at $54.67 a barrel on Friday.
The European benchmark lost 8.5% for the week as a whole.
US April contract finished $2.21, or 4.7%, lower at $44.84 a barrel on Friday.
WTI crude lost 9.6% for the week.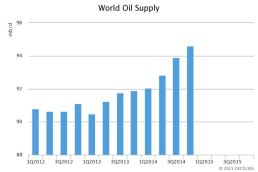 In its 13 March report, the International Energy Agency (IEA) said that global crude supply was higher than demand.
The energy watchdog warned of further oil instability.
US crude inventories, which are at record levels, "may soon test storage capacity limits" and that could result in renewed price weakness and "trigger the cuts that have so far remained elusive", the IEA added.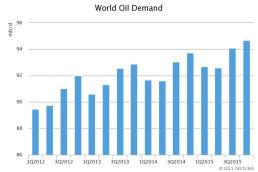 The IEA report said: "Behind the facade of stability, the rebalancing triggered by the price collapse has yet to run its course, and it might be overly optimistic to expect it to proceed smoothly."
Meanwhile, a Baker Hughes report showed that US drilling activity fell further as of 13 March. It said that the number of US rigs drilling for oil as of Friday fell by 56 from last week to 866 rigs.
Phil Flynn, senior market analyst at Price Futures Group, told MarketWatch: "Oil rig counts fell for a historic 14th week in a row. While at this point the rig count drop has not impacted output, at this rate it soon will."
Capital Economics said in a note to clients: "Most commodity prices fell further this week, undermined by the continued strength of the US currency and soft economic data from China. The prices of crude oils, especially the traditional US benchmark WTI, were additionally pressured by ample US stocks and the easing of the cold snap in North America..."
Earlier this month, Goldman Sachs warned that oil prices will reverse their recent gains as global inventories begin to rise, with US crude likely to drop to $40 a barrel in the near-term.
Goldman added that Brent prices will also come under renewed pressure.