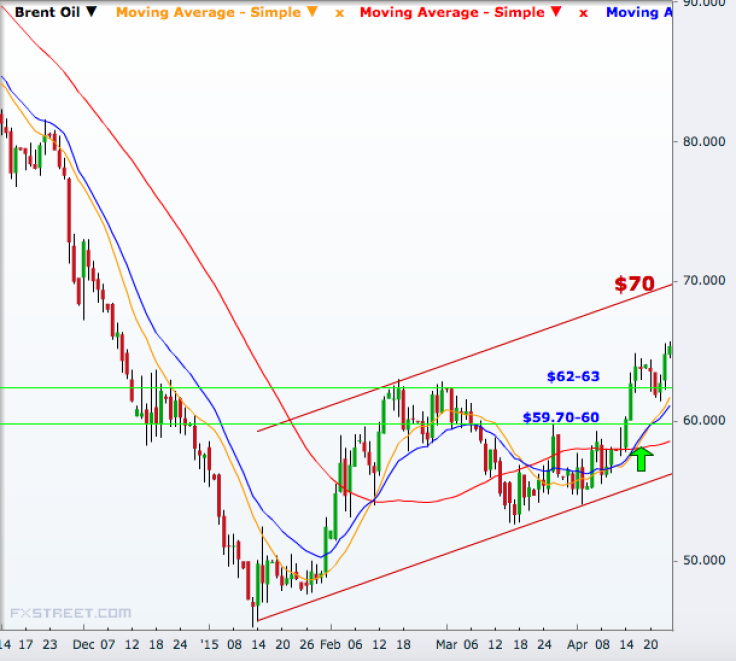 Oil prices continued to rally on Friday (24 April) and touched fresh highs for the year as Saudi Arabia continued air strikes on Yemen, adding to worries that supply of the commodity from the Middle East will be hit.
Data this week showing rising crude oil stocks in the US limited the price gains but failed to prevent new multi-month highs in most varieties of the commodity.
Brent crude for spot delivery rose to $65.66/bbl, its highest since 10 December, from the previous close of $64.74. Over the last two sessions, it had rallied more than 4.7%.
The US Energy Information Administration has said that commercial crude oil inventories rose by 5.3 million barrels in the week to 17 April from the previous week, more than the forecast of an increase of 3.2 million barrels.
An IBT UK technical analysis published on 6 January had emphasised the likelihood of the low so far forming a "channel support" considering the trend dating back to 1998. The commodity extended its losses over the next few days too but eventually turned north.
The rebound from the 13 January six-year low of $45.16 ended at $62.97 after a month for a correction which took it as low as $52.55 within the next four weeks.
The upward shift from there has taken it to the current highs and "channel" drawn from January lows point to $70 before the next round of meaningful correction.
Such a move is more certain ever since the commodity has triggered a bullish signal with the 14-day moving average crossing over the 50-day one on 14 April.
Eurogroup cues
The market is now waiting for more cues from the Eurogroup meeting as a lack of understanding among Greece and its creditors in the coming weeks could lead to severe outcomes like that country's exit from the eurozone.
Moving on to the US session, the March durable goods orders data will be crucial even as the euro has shown strength of late amid speculation that Greece has offered concessions in its stance on the reform plans its creditors put forward.