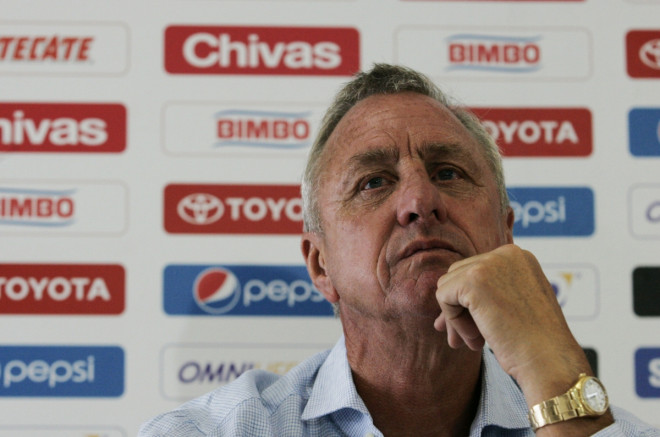 Legendary footballer Johan Cruyff has claimed that Jose Mourinho will bring chaos to the dressing room at Chelsea, just as he did at Real Madrid.
During his three campaigns at the Santiago Bernabeu, the Portuguese boss had a series of public arguments with his players, including legends Iker Casillas and Cristiano Ronaldo.
Mourinho failed to deliver Real Madrid their 10th Champions League, and during his last season at the club he didn't claim a single trophy, as the rows became ever more divisive.
And Cruyff believes that Mourinho will eventually fail again at Chelsea, even though he has a squad good enough to win titles.
"It's always the same with him. When things are going well, it's the result of his good work, but the players are to blame when things are going badly" Cruyff told Catalan newspaper Sport.
"He already lost the dressing room at Real Madrid because of that and I can see the same happening at Chelsea,"
Cruyff, who guided Barcelona to their first-ever European Cup in 1992, also responded to Mourinho's recent comments by saying that Paris Saint Germain are favourites to progress in the Champions League on Tuesday night.
"PSG have a strong team with some great players. Chelsea have some great players as well, but Mourinho seems to disagree," Cruyff said in response to Mourinho's recent comments.
Cruyff castigated Mourinho last summer, suggesting the self-styled 'Special One' "will never win a prize again. I think that because of the way he acted in Madrid. He blamed everyone and everybody when something went wrong in Madrid.
"And he is playing games with people who are working there. Mourinho himself played an unbelievably negative part in his Madrid years. First he moved out general manager Jorge Valdano and later he did the same with director of football Zinedine Zidane. And in the end he dropped Iker Casillas, the captain of the Spanish national team.
"This behaviour does not work in football, it only works in paralysing the dressing room. That's why it didn't work out in the end in Madrid and that's why I think Mourinho will not succeed any more."