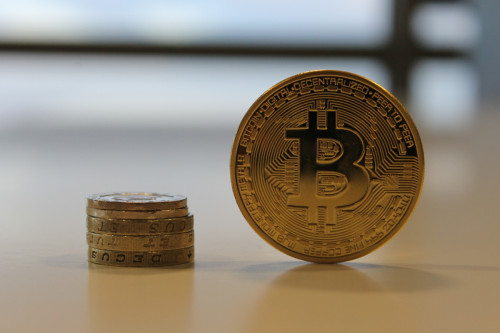 The theft of $2.7 million (£1.6m) worth of bitcoins from shady online marketplace Silk Road 2.0 has prompted widespread losses, with 45 of the top 50 cryptocurrencies losing value in the last 24 hours.
Bitcoin lost 11.3% according to CoinMarketCap, down to $575.53 per coin, although Mt Gox, once known for its inflated bitcoin valuations, has the currency at less than $380, as its self-imposed halt to coin withdrawals continues.
Litecoin followed suite, losing 9.3% and taking its value down to $15.26, while fifth-place dogecoin dropped 10.8% to $0.0016.
The rankings were momentarily skewed by a new cryptocurrency called electric, which surged almost 30,000% as its 2.9 billion coins hit $0.029 and briefly held a market cap of $83.8m, more than dogecoin's $78.2m.
However, order was restored a few minutes later, when electric's market cap fell to $201,000, giving each of its near-three billion coins a vanishingly small valuation of $0.000069.
---
London bitcoin owner flies to Tokyo to protest outside Mt Gox
---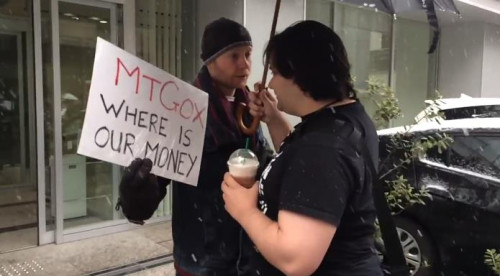 Kolin Burges, a 30-year-old Android developer living in Shoreditch, London flew to Tokyo this week to stage a protest outside troubled bitcoin exchange Mt Gox. Burges bought a last-minute ticket for £850 and arrived in Japan on 12 February, where he stood in the snow holding a sign reading "Mt Gox where is our money".
Recorded on video, Burges eventually caught the attention of Mt Gox owner Mark Karpeles, who refused to answer any question regarding the exchange and the availability of its customers' bitcoins.
A ban of bitcoin withdrawals was imposed by Mt Gox on 11 February, claiming the exchange needed to halt transactions while it fixed technical issues. However, it is widely assumed by the bitcoin community that Mt Gox does not have enough bitcoins to meet its users' demands.
"I want to get my bitcoin back, or get Mt.Gox to bring back public confidence that the company is solvent and people's money is safe," Burges said, telling the Wall Street Journal he deposited 250 bitcoins with a current value of £85,000 into Mt Gox in early January with the intention of keeping them there temporarily.
---
California close to deeming cryptocurrency as 'lawful money'
---
California's Assembly Bill 129 is now roughly halfway through the process of becoming law, according to the state's Senate Banking and Financial Institutions Committee, paving the way for more robust cryptocurrency legislation.
Following a unanimously positive vote of 75 to zero in late January, the bill would broaden California's definition of 'lawful money' to include virtual currencies like bitcoin.
Recognising that modern methods of payment "have expanded beyond the typical cash or credit card transactions," the bill "makes clarifying changes to current law to ensure that various forms of alternative currency such as digital currency, points, coupons, or other objects of monetary value do not violate the law when those methods are used for the purchase of goods and services or the transmission of payments."
The bill must pass three more stages in the Senate before it can become law: the Senate Policy Committee, Senate Fiscal Committee, and the Senate floor.
---
Bullion for bitcoin exchange comes to London
---
Bullion Bitcoin Limited is a London-based service for 'Professional Investors' to exchange gold for the cryptocurrency, and vice versa.
Trading on the exchange will be restricted to high net-worth individuals and professionals, as defined by the Financial Conduct Authority, and traders will have to put up a minimum subscription of 1kg of gold, worth around £24,500, if they wish to use the service.
The company adjusts its bitcoin valuation twice a day during business hours, and it is during these two sessions that traders log in and place their bids and asks for bitcoin and gold. The system is not designed for high-frequency trading, but for "a more sedate, physical-type exchange," Bullion Bitcoin owner Adam Clearly told CoinDesk.
"I'm hoping to appeal to goldbugs who might be looking for a way to move their gold to bitcoin," Clearly added. "There are also people who have made a lot of bitcoin from the early years and want to move into something tangible."