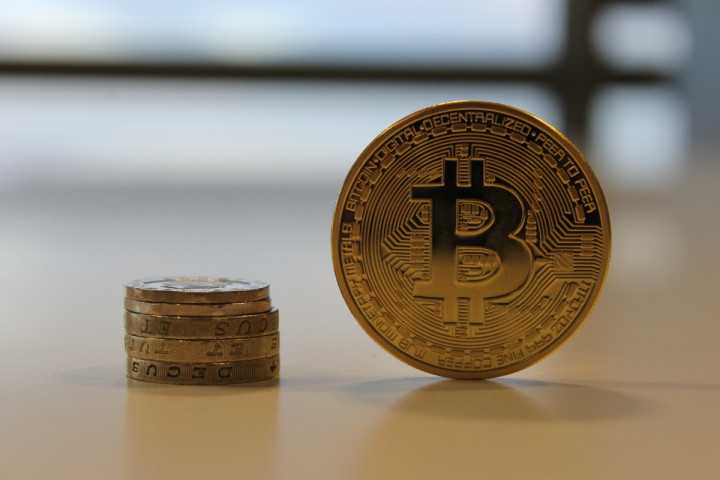 Bitcoin, litecoin, peercoin and darkcoin have all continued to see their prices slide over the weekend, as turmoil reigns across most major markets.
A 5% fall over the last 24 hours for bitcoin has put its value well below the $500 (£300) mark and down to its lowest price in over three months.
Litecoin – often referred to as the silver to bitcoin's gold – has fallen by around 15% since yesterday, dropping to its lowest price since last November.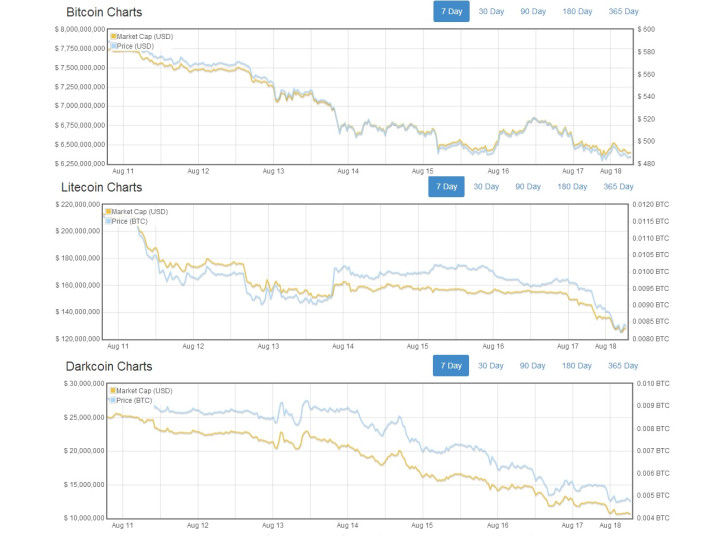 One of the hardest hit has been darkcoin, which has lost more than half of its value over the last few days, dropping down to become the fifth most valuable cryptocurrency. Its market capitalisation has fallen below $10m ($6m, €7.5m) for the first time since May, and the price of one darkcoin sits at around $2, down from a high of $15.
It is difficult to attribute the market-wide crash to any single factor. Analysts have blamed a variety of events, including a major sell-off at Hong Kong exchange BitFinex, a US government report last week that highlights the risks associated with virtual currency, New York's BitLicense proposals, and the introduction of new sophisticated trading techniques.
---
$1.6m in NXT stolen by hackers
---
A hacker has been blamed for the loss of 50m NXT from the Bter exchange, equivalent to around $1.6m.
The identity of the hacker has not yet been revealed, however Bter claims that it has "lots of information" about them and is in the process of recovering the funds.
"I am really sorry for this. Several hours ago one of our hosting accounts was hacked and the hacker got 50m NXT from this server," a Bter developer wrote on a NXT forum.
"It's totally our fault and we are trying our best to cover all the loss. However 50m NXT is huge for us, we cannot afford it at the moment."
NXT is currently the fourth most valuable cryptocurrency when taking into account non-mineable altcoins.
---
Dogecoin at risk of 51% attack
---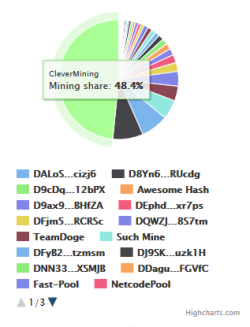 Dogecoin is close to having over 50% of its cryptographic hashing output controlled by one mining pool, putting it at risk of a 51% attack.
Clevermining accounted for over 48% of the dogecoin mining network over the weekend, and dogecoin users have called on their fellow shibes to switch pools.
"Stop mining at Clevermining," one user wrote on Reddit's dogecoin forum. "They have 48.4% of our network! Aim your ASICs and GPUs to other pools."
Earlier this year, popular bitcoin mining pool GHash.io caused concerns after it accounted for over 50% of the bitcoin hashrate over a 12-hour period.
This would have technically allowed GHash to double-spend already confirmed transaction and effectively stop all payments, thus shutting down the bitcoin network.
GHash has since pledged never to exceed "more than 39.99% of the overall bitcoin hashrate".