Twitter stats for the final day of the January transfer window reveal that Juan Cuadrado's move from Fiorentina to Chelsea was the most talked-about deal on the social network.
Chelsea's £23.3m deal for the Colombian winger dominated discussion under the hashtag #DeadlineDay, with the confirmation from Chelsea's official Twitter account being the most retweeted message of the day:
Despite Jim White's best attempts, this year's January transfer deadline day was a bit of a damp squib. However as you can see in the heat map (below) of Twitter mentions for "deadline day" or #Deadlineday, there were still a lot of people interested in talking about it online.
Interest peaked just before 7pm on 2 February when Chelsea officially announced the signing of Cuadrado:
Aside from Cuadrado, the next most talked-about players were Andre Schürrle, who moved from Chelsea to Wolfsburg, and Tottenham winger Aaron Lennon, who signed for Everton on loan.
Lionel Messi going to Chelsea
Looking at the January Transfer Window as a whole, the most discussed Premier League teams on Twitter were Arsenal, Manchester United, Chelsea, Liverpool and Manchester City.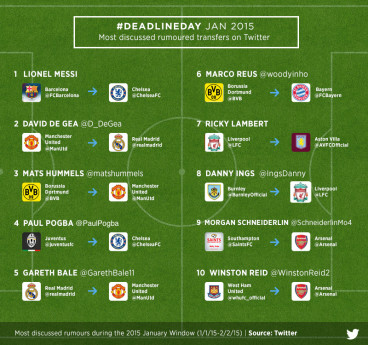 While the actual transfers are interesting, it is safe to say that for most people rumours are much more exciting and top of the list on Twitter was the potential move of Lionel Messi to Chelsea, followed by the discussion that Manchester United goalkeeper David de Gea could be on his way to Real Madrid.
Indeed Manchester United figured heavily in the most talked-about transfer window rumours, with the possibly of Mats Hummels leaving Borussia Dortmund for Manchester, and Gareth Bale making a shock move from Real Madrid, among the top five transfer rumours.
Humour
Whether it be analysis of Jim White's yellow tie or Harry Redknapp's elbow, the best thing about Twitter and Transfer Deadline Day is the humour and this year was no different.
Here is Virgin Media mocking the rather pedestrian pace of signings at the start of the day:
While betting firm William Hill was giving out handy tips for those looking to follow the updates while at work:
But this, from League One club Crawley Town, is our favourite: