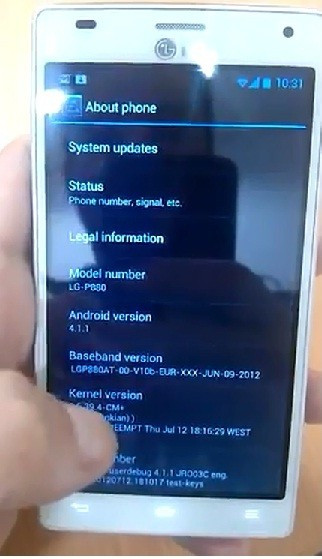 The Jelly Bean source code was recently released, in addition giving developers a chance to get it from Android Open Source Project (AOSP) and port it to devices. As promised, the CyanogenMod team has shown up the CM10 based on Google's latest mobile operating system, Jelly Bean. One of the CyanogenMod developers, Ricardo Cerqueira, has posted a video of an early CM10 ROM running on an LG smartphone. The developer notes that the device is "an early development unit" of an LG Optimus 4X HD P880.
The developer claims that CM10 hardware integration is progressing well. "The point of the preview isn't as much the specific device, I'm just trying to point out that we can actually get CM10 to do things now on devices that aren't named "Nexus", claims Cerqueira on Google+.
According to the video, we can see some of the things working such as camera, sound, phone calls and multitasking. However, it has an issue related to Google Now app. In a rather short span of time, the CM10 appears to be notable. "In any case, it's an impressive amount of progress considering how short a time the Jelly Bean source has been available," explains Android Central. "As always, the first rule of CyanogenMod applies here, and the team isn't giving any ETAs for CM10 nightly builds," it adds.
Recently, the CyanogenMod team announced that its CM10 will be based on Jelly Bean. "Many have asked whether JB will be CM9.1 or CM10. Keeping with the pattern thus far, every newly named AOSP update results in a bump to the CM major version. This has the added benefit of fitting into a pattern of [insert codename position in the English alphabet] = CM version. Examples being: G is the 7th letter thus CM7, I is the 9th letter thus CM9 and J = 10," explains CyanogenMod.
The CM team believes that Project Butter improvements should not be an issue to incorporate them on the devices. Moreover, if the device meets the requirements for CM9 (512MB RAM) then users can be in line for CM10.
Check out the video below, courtesy of Ricardo Cerqueira: