The trial of the man accused of murdering Manchester police officers Nicola Hughes and Fiona Bone has started at Preston Crown Court.
Dale Cregan, 29, is accused of killing the two PCs in September 2012. He is also accused of murdering father and son David and Mark Short.
He is standing trial alongside nine other suspects. All have pleaded not guilty to various charges.
Some 150 police officers surrounded the court building and nearby streets as the trial got under way. A portable cabin was set up at the entrance to the court so visitors could be searched.
Further checks, including the use of metal detectors, were carried out inside the courthouse and armed uniformed officers were on patrol inside the building. Armed officers escorted the 10 defendants from prison to the hearing.
Seats in the public gallery of the court have been set aside for relatives of the deceased, the Manchester Evening News said.
The trial will be presided over by Mr Justice Holroyde QC. Once the jury has been selected, Nicholas Clarke QC will put forward the case for the prosecution.
As well as the murder charges, Cregan is also charged with four counts of attempted murder. He entered his not guilty plea at Liverpool Crown Court in November.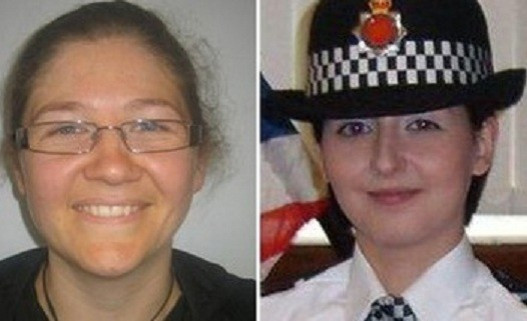 Bone, 32, and Hughes, 23, were killed on 18 September in a gun and grenade attack during a routine call at an address in Hattersley.
David Short, 46, was killed on 10 August, while his son Mark, 23, was killed on 25 May.
The other men who stand accused of murder are Luke Livesey, Damien Gorman, Anthony Wilkinson, Jermaine Ward, Matthew James, Ryan Hadfield, Leon Atkinson, Francis Dixon and Mohammed Ali.
Atkinson, 35, from Ashton-under-Lyne, Livesey, 27, from Hattersley, Gorman, 38, from Glossop, Hadfield, 28, from Droylsden and James, 33, from Clayton, are all accused of the murder of Mark Short along with Cregan and the attempted murder of three others (John Collins, Ryan Pridding and Michael Belcher) at the time.
Cregan, Dixon, 37, from Stalybridge, Wilkinson, 38, from Manchester and Ward, 24, are accused of the murder of David Short. All four are also jointly accused of the attempted murder of Sharon Hark on the same day and a single charge of causing an explosion.
Wilkinson is additionally charged with possession of a firearm with intent to endanger life and Ali, 32, from Chadderton, Greater Manchester, is accused of assisting an offender.
Cregan alone is charged with the murder of the two police officers.