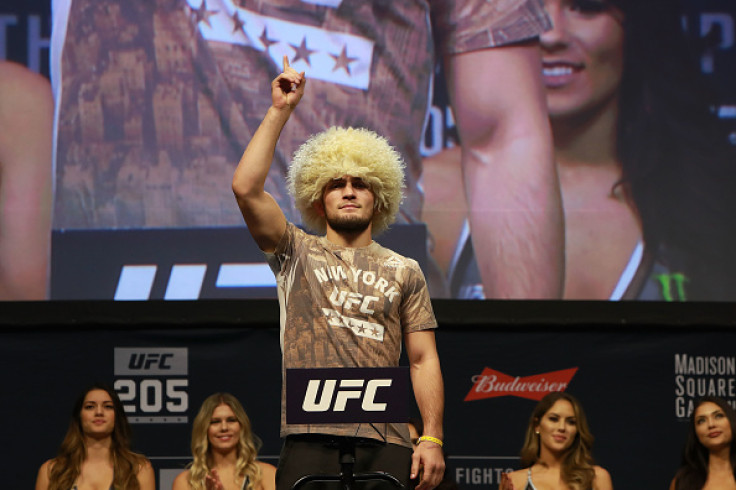 UFC president Dana White has raised concerns over Khabib Nurmagomedov's future following his withdrawal from the UFC 209 co-main event due to "weight management medical issues."
The undefeated Dagestani fighter was scheduled to fight Tony Ferguson for the interim lightweight championship and the winner of the fight would have then been presented an opportunity to fight lightweight champion Conor McGregor for the title.
Nurmagomedov was in the process of cutting down his weight to 155 pounds and during this he fell ill and was rushed to the local hospital in Las Vegas two days before UFC 209. Though he was released from the hospital, the 28-year-old did not receive clearance from the doctors that forced the fight to be called off on health grounds.
It is the third time the fight between Nurmagomedov and Ferguson has been cancelled and the former has a history of calling off fights. However, it was for the first time that Nurmagomedov was forced to withdraw due to weight cuts and White has raised questions over his ability to compete in the sport.
"To be honest with you, Khabib fought (at UFC 205) in New York in November then here in this fight. Two back-to-back weight cuts like that. I don't know if he can make the weight or if he needs to get a better plan (or) dietician. Something," White said, as quoted by MMA Junkie.
"I don't know (what he should do). He got within six pounds and was in really rough shape. He's going to have to take some time to recover from this weight cut, and then I don't know what to do."
Nurmagomedov was rushed to Sunrise Hospital and Medical Center in Nevada even without consulting with UFC. White has expressed his unhappiness after the fighter was taken to a local hospital and has explained how the situation would have been different, if Nurmagomedov's team had approached the company.
"So what would have been different is if he had called Dr. (Jeff) Davidson or Briana (Mattison), the two who handle all the medical stuff for the UFC, they would have brought him right to the hospital," he explained.
"Apparently he was treated horrible at (Sunrise Hospital & Medical Center in Las Vegas). Shocker here in Vegas; that's no shock. He should have gone to Valley Hospital (Medical Center). He should have been with (Dr. Davidson, who) would have taken him right in. They would have checked him right in and seen where he was.
"When you walk into just some random hospital here in Las Vegas and they see the guy and they tell him the weight cut, they just start filling him with fluids. That's immediately what they do.
"They bring you in, they stick in the IV, and they start. (Dr. Davidson) would have checked his vitals, seen where he was. I'm not saying that the fight could have been saved, but maybe it could have. We've been in these positions before. This isn't our first rodeo."