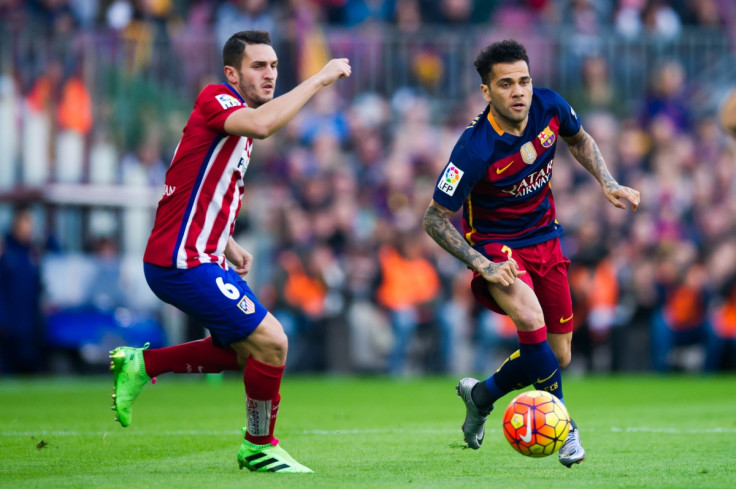 Barcelona star Dani Alves's future is up in the air after he refused to confirm that he will remain at the Nou Camp next season. The Brazil international also warned the La Liga champions that, while fellow countryman Neymar is happy at the club right now, the Spanish giants need to take care of him in the long-term.
The right-back, 33, has been a major figure at Barcelona since he signed for the club from Sevilla in the summer of 2008. However, his continued employment at the club has been under scrutiny in recent times due to his age and controversial behaviour off the pitch.
Last summer Alves even called a press conference to announce he had "one foot, half a body and almost a head" out of Barcelona as the club stalled on offering him a pay rise, with the likes of Manchester United and AC Milan said to be monitoring the situation.
Some at the time claimed the Brazilian was just trying to take advantage of the club's transfer embargo to get a pay rise, with the club unable to sign a replacement or register Aleix Vidal.
The saga ended with Alves signing a lucrative two-year deal, but speculations have continued through the season, despite the player remaining as first-choice right-back due to the poor form of both Vidal and Douglas Pereira.
The Barcelona star has kicked things up a notch by refusing to confirm he will see his contract out, amid reports claiming he has a big-money offer on the table to move to China.
"In life, the only things I believe in are my possibilities. I can't guarantee anything, if I am going to continue or not. I live day-to-day and for me tomorrow doesn't exist. Later, the decision that has to be taken, I will take," the full-back said in a press conference, as quoted by Sport. "I said that I am happy and I will be, because I am Barça, because this club has captivated me. But you never know the future. Last year it seemed as if everything was over and I was out the door and I've since enjoyed another year of success. I couldn't ask for any more. I only look at the present. I am a Barça player and I am happy at Barça and a champion of La Liga and the Copa del Rey."
Neymar's future at the club have also been in doubt after Globoesporte reported last week that the former Santos icon was considering offers from Manchester United, Real Madrid and Paris Saint-Germain to move. However, Neymar told fans after the Copa del Rey victory over Sevilla that he was "happy" at Barcelona, in what appear to be a gesture of commitment.
Alves has confirmed his friend is happy at the Nou Camp, but warned the club's board that he needs something else to commit his long-term future to the La Liga giants.
"I spoke to Neymar [when he was at Santos] and did my bit so that he would come here because I want him to fulfil his dreams. I think he made the right choice. We have to take into account his words as he is happy here and that's enough," Alves said, before adding: "The club must take responsibility of caring for Neymar sufficiently for him to stay."