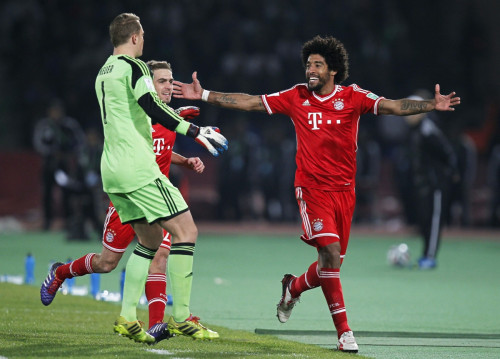 Dante has insisted that he would never leave Bayern Munich unless the club ordered him out as rumours of a move to Manchester United continue to swell.
The defender gave hints over a possible deal with the English giants when he told reporters this week: "I'm still not (a United player). I continue at Bayern, and I thank Manchester United for their interest. It will all be sorted by the end of the month."
This left many speculating that he might be open to entering into talks with David Moyes, who is looking for defensive additions to help the ageing Nemanja Vidic and Rio Ferdinand who are both out of contract with the club in the summer.
But now Dante has moved to clarify the comments, insisting that he would never leave a side who are widely considered favourites to dominate European football again this season.
"It was said in jest," he insisted of the earlier comments, according to the Manchester Evening News. "I'm at the best club in the world. That would only be interesting if Bayern says to me, 'Go away.'"
Bayern are currently favourites to win the Champions League trophy for a second season running with the side already asserting themselves at the top of the Bundesliga table with a seven point cushion.
Their standing throughout Europe was further solidified by top manager Pep Guardiola choosing a move to the club over a number of lucrative offers elsewhere in the summer.
While Moyes is hopeful that United will make a comeback from their current plight that has left them seventh in the Premier League table the side are far from looking to be serious challengers in the Champions League and tempting a player into moving away from Bayern right now could prove to be very difficult for the Scot.