Key features:
Batman character figures included
Spring-loaded missiles
Extra armour on Bat-Pod
Sound effect on The Bat
Introduction
Who knew that when Jack Nicholson's Joker asked the question "Where does he get those wonderful toys?" the answer would be Mattel? (With a little bit of licensing help from DC Comics).
OK, so the onscreen kit developed by Lucius Fox's Applied Sciences division at Wayne Enterprises is a touch larger. The good thing is you won't need to be a billionaire to get your hands on these copies.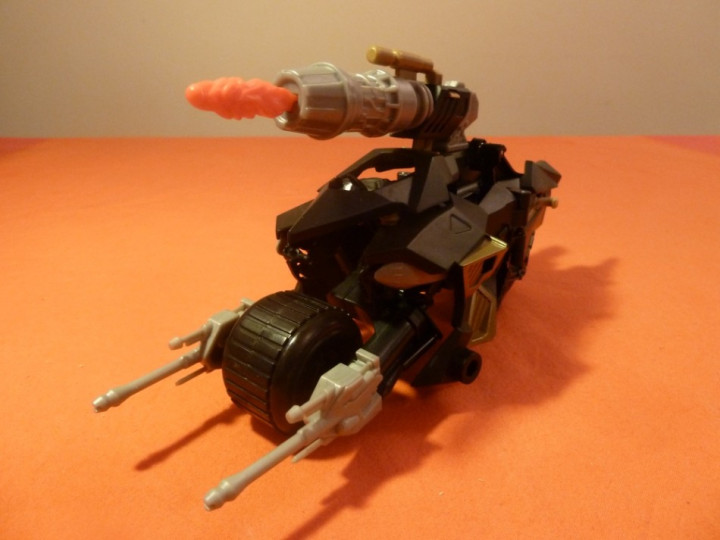 How do these movie tie-in toys compare with their onscreen counterparts?
The Bat-Pod looks just like Batman's sweet ride when you clip the first pieces together and you can use it like that. It is missing the kind of tires that make 90-degree turns possible in The Dark Knight Rises but still moves very cleanly.
Then it appears as if Mr Fox might have been putting in a few hours overtime. Clipping on some additional pieces adds in a few extras, such as armour and a big new piece of firepower. The weapon isn't strictly part of the Batman canon, even if it is strictly a cannon.
Impressively, The Bat looks like The Bat. The 'real' version does not have a handle on it, but that is an essential addition in this case because once you pick it up you are going to want to swoosh it around the room as if it is really flying.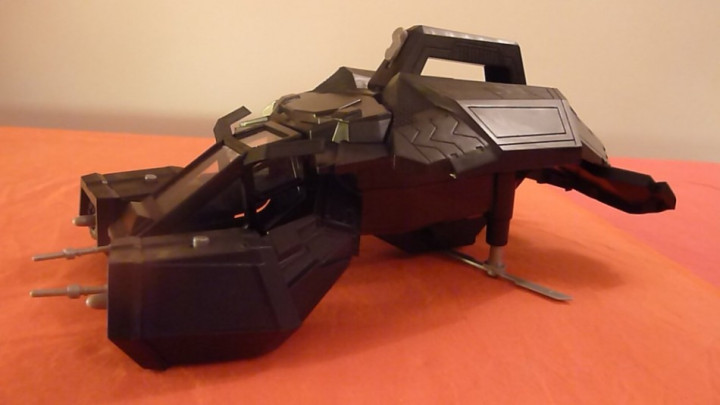 It was unlikely that mass produced figures were ever going to achieve the level of detail of this Batman figurine. However, the included figures are much more detailed than you might expect - especially the one that comes with the Bat-Pod.
Both the scowl and the cowl look pretty good for a figure that is going to spend most of its time hidden away like the world's most paranoid TT racer.
The Bat, on the other hand, cannot go for such a simple recreation of the Dark Knight because its figure has to perform a very specific task. Hiding away in an inner chamber within the flying machine, it can be fired out to glide through the air itself.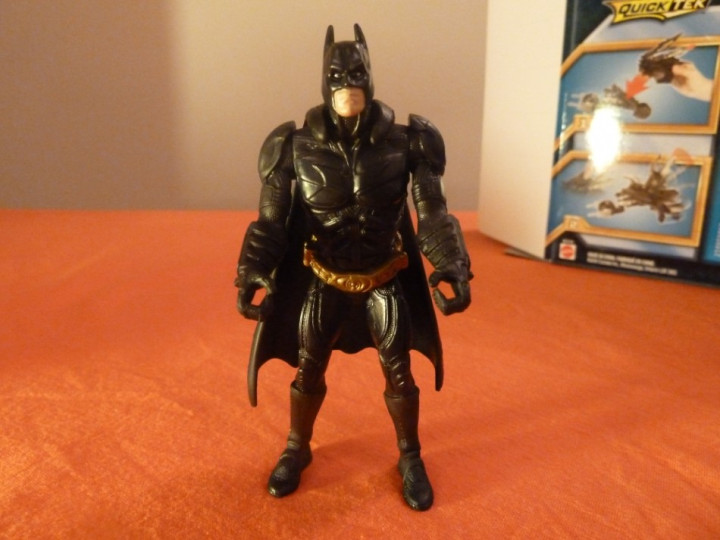 The Dark Knight Rises Toys: Playability
Once built, the Bat-Pod has a nice, easy motion as it is pushed along the ground. Decent force in the bike's cannon should also be able to knock over any Bane figure you stand in the way.
The Bat looks great but would have been so much more impressive if Mattel had made those rotor blades turn using battery power. As it is you have to put up with them momentarily spinning when given a flick.
That one change would have made using the handle to manoeuvre around the room and dish out justice with your front missiles so much more fun.
Instead, we have Batman springing into action from his concealed inner compartment. It is a little gimmicky although at least his winged form means he flies through the air really well.
The Dark Knight Rises Toys: Verdict and Price
The Bat-Pod will set you back around £24 on Amazon UK, while The Bat costs around £34 at the same web retailer. At those prices these toys could be items that are bought for a specific occasion - like a birthday or Christmas.
If your kids are lucky they were born later in the year and still have a special day to come. Because no Batman fan really wants to wait until Christmas to get their hands on these fine additions to a secret underground garage (that's be under the bed, of course).
Scores:
Overall: 9/10
Design: 9/10
Performance: 9/10
Features: 8/10
Value: 8/10
The good:
Detailed figure with Bat-Pod
Smooth motorbike action
Missiles and The Bat Batman figure fire well
The bad:
Powered rotors would have made The Bat essential
Priced just above impulse purchase
Must Read:
The Dark Knight Rises: Film Review
Lego Batman 2: DC Superheroes Review