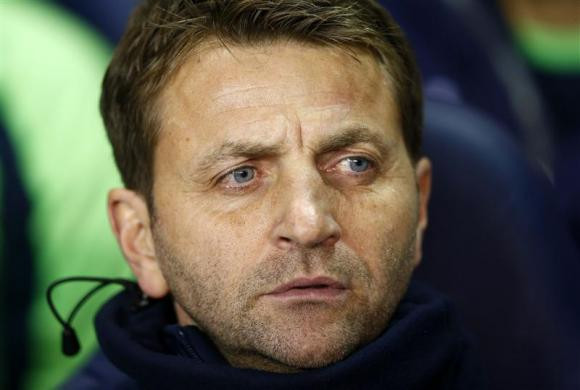 Tottenham Hotspur legend David Ginola has called for the club's hierarchy to reject Louis Van Gaal's interest in becoming the club's new manager and keep faith with Tim Sherwood, who has guided the Spurs to just two defeats in 11 games under his guidance.
Though Spurs have crashed out of the FA Cup and been beaten by FC Dnipro in the first leg of the Europa League last 32, Sherwood has kept the club in touch of a Champions League place, a race in which they trail fourth place Liverpool by six points.
Sherwood has been handed an 18-month contract but uncertainty reigns over his long-term future should Tottenham miss-out on a top four place, with Netherlands coach Van Gaal putting himself forward for the role in the summer after the 2014 World Cup.
But Ginola told Goal.com: "You can always bring in the best managers or the best names around, but why don't you trust Tim Sherwood for another three, four, five years?"
"I don't understand that. If he proves to everyone until the end of the season that he is capable of doing a good job at Spurs I don't know why he shouldn't have the job for another three years, at least, and work on the things he has been achieving so far."
Andre Villas-Boas was unceremoniously sacked by Tottenham following the 5-0 defeat to Liverpool and since Sherwood has enjoyed decent success, his greatest triumph being the revitalisation of striker Emmanuel Adebabyor, who was side-lined under the previous regime.
The continuation of Sherwood's impressive spell in charge rests on overcoming a 1-0 defect against Dnipro on Thursday but nevertheless Ginola has been impressed by how his former side have been united during the second half of the season.
"Villas-Boas didn't have any trust in his team going forward," he added. "So he was in a position where he was playing not to lose. He didn't want to play Adebayor, he didn't want to play anyone.
"He had one player in midfield making sure that they would not concede any goals and he was against the wall already. You can't manage a team when you are thinking that way.
"Tim Sherwood has nothing to prove, in a way, because he's just come from the academy, he was working with the kids, he was watching the first team play but didn't have much to say about it, but as soon as he arrived he took Adebayor from the bench and put him up front, and with Villas-Boas, having spent £100m on players in the summer, they realised that the results were not good enough."