Chelsea defender David Luiz says he must save free-kicks like the stunner he scored against Liverpool "for the right opportunity" as he continues to feel the effects of a knee injury.
Luiz wore strapping on his right knee throughout December following a dangerous challenge from Manchester City striker Sergio Aguero in Chelsea's 3-1 win at the Etihad Stadium – an incident that saw the Argentina international handed a four-match ban.
The Brazil international's knee remained bandaged up until mid-January but the defender has continued to start and finish each of his side's Premier League matches.
His worth to Antonio Conte's team was underlined again on Tuesday night after his stunning free-kick that opened the scoring in the 1-1 draw at Anfield.
But speaking post-match, Luiz revealed strikes like that are not helping the persistent pain he feels in his knee, which has been enough to ensure he cannot train every day.
"Sometimes you need to try the surprise," Luiz said of his strike, the Daily Mail report. "I am not in the best position to take free-kicks because my knee is hurting and I can't train every day, but in a game you need to see the opportunity."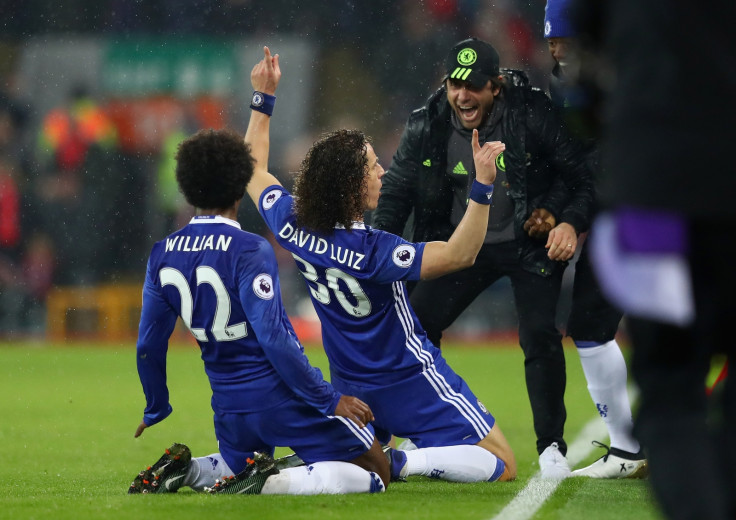 Liverpool goalkeeper Simon Mignolet tried to take the blame for Luiz's superb strike, admitting he did not hear the referee's whistle to restart play before the free kick was hit. His manager however absolved him of any blame, insisting he had been undone by a "world-class" strike.
"That was world-class from David Luiz we have to say that. You have to say we have to be prepared but he was surprised," Klopp told BT Sport. "Even if he was prepared it would have been difficult to save it because it was hit well and right in the corner,' the German added.
"Two seconds before he scored David Luiz was stood next to me talking to Conte and drinking water on the touchline."
A point at Anfield ensures Chelsea remain nine points clear at the summit of the Premier League.