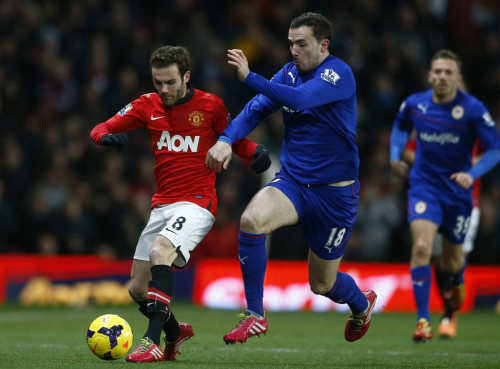 David Moyes has praised new signing Juan Mata after his Premier League debut for Manchester United at Old Trafford.
The midfielder made the switch from Chelsea to United last week for a club-record fee of £37.1m and started his first game as the Red Devils registered a 2-0 victory against Cardiff City.
Mata played his part in the game providing an assist in the second-half for Ashley Young. The 28-year-old blasted a sensational goal from outside the box dribbling past a couple of Cardiff players after receiving the ball from the Spanish international.
"I thought Juan played very well. He made some terrific passes for us, got us on the ball, gave us a different look at times and he will grow. We will get used to him more as well," Moyes told United's official website.
"I was a bit worried about his overall match fitness but when we got to 2-0, I thought the longer we keep him on the better and we will hopefully get him up to speed quickly."
The 25-year-old was close to getting his first assist in the United colours in the 20th minute but Young was unable to finish Mata's cross. But the 50-year-old believes there is more to come from his latest signing in the coming days.
"He was close to making us a couple of goals in the early part of the game with his passing and I think everybody knows what he is capable of. I think when we are in full flow, when we are playing as well as we can then I think he will be a big help for us all," the Glaswegian said.
The game also saw Robin Van Persie make his first start for the Red Devils since the 0-1 defeat against Newcastle United last month. The Premier League champions stormed into the lead within seven minutes after the Dutchman headed the ball out of David Marshall's reach.
"Robin scored and we have missed his goals. Out of nothing, he can get you a goal. Antonio [Valencia] should probably have scored with the first header that hit the bar and then they saved the second one before Robin got in. He certainly did that all of last year and we have missed him. We really have," Moyes concluded.