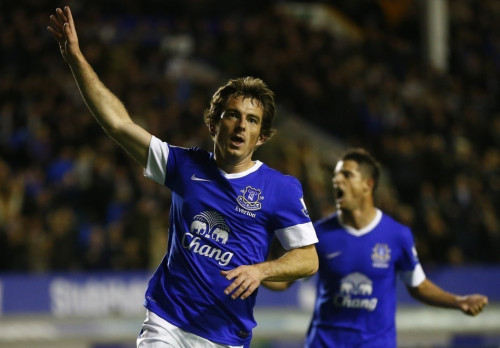 Everton are hoping to end Manchester United's long term interest in Leighton Baines by offering the defender a new contract.
Various reports suggest the 29-year-old is now very close to committing his future to Goodison Park as United ponder making another bid for his services after seeing at least two offers turned away during the summer transfer window.
BBC Sport suggest an offer of £75,000 a week will convince Baines to put pen to paper on a new deal, which could potentially leave his former manager Moyes facing another last minute scramble for additions to his squad at the end of the month.
The Premier League champions saw an initial bid of £12m rejected by Roberto Martinez's side early last summer before a joint offer of £28m for both him and Marouane Fellaini was turned away by the club.
While United eventually signed the Belgian midfielder for a fee of £27.5m on transfer deadline day, Everton remained firm in their desire to hold onto the England international.
Speaking earlier in the season, Martinez indicated that Everton, who have excelled this season despite Baines missing the entire festive period through injury, have every intention of rewarding their best players with contracts that reflect their value to the club.
"Leighton is the most important player for us now and in the future," Martinez said, speaking in September.
"He has been an outstanding performer over the years and now clearly he's at the peak of his career. We're going to make sure he feels that warmth from the football club and, from a contractual point of view, exactly the same.
"As in any walk of life, when you do things correctly and work extremely hard you need to be rewarded. Leighton is clearly a vital part of our future and is going to find out about it."
As they did during the summer, United are likely to re-launch their efforts to sign Fabio Coentrao from Real Madrid. A deadline day line move for the Portugal international collapsed last year but the club are eager to add quality to the left hand side of their defence with Patrice Evra yet to sign a new contract and with his current deal set to expire this summer.
However, United could struggle to get yet another of their transfer targets after Real Madrid boss Carlo Ancelotti insisted the club would not be allowing any players to leave half way through the season.