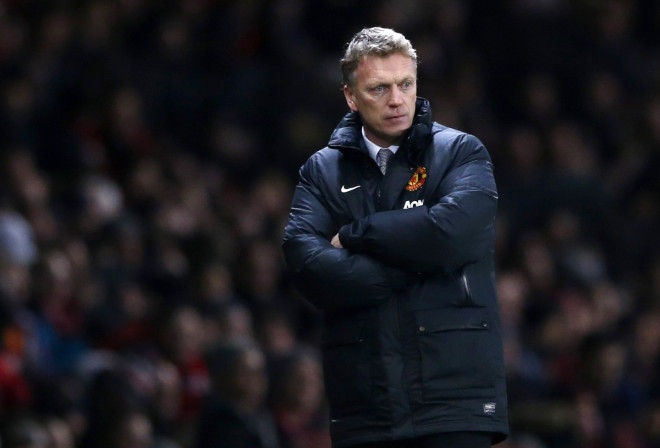 David Moyes' future as Manchester United manager is growing increasingly bleak after evidence of supporters turning on the Scot following the 3-0 defeat to Liverpool was accentuated by reports of a major falling-out with senior players at Old Trafford.
United won the title by 11 points ahead of Manchester City last term in Sir Alex Ferguson's final season but currently sit seventh and face their lowest top flight finish for 24 years and not qualifying for European competition for the first time since 1981, following a ninth Premier League defeat of the campaign.
Moyes was handed a six-year contract upon being appointed as successor to Ferguson but after another abject display in defeat to Brendan Rodgers' Liverpool, he faces strong questions over his capability to lead the club beyond the end of the current term.
Problems at United had initially been confined to performances on the pitch, particularly at home where they have won just six times in 14 league games, but club fanzine Red Issue has revealed that a training ground bust-up with player-coach Ryan Giggs before the game against Liverpool is jeopardising Moyes' future.
"Phil Neville was sent to ask Giggs why he hadn't attended a recent coaches meeting," the issue read. "The reply that it was 'pointless, as Moyes doesn't listen' did not go down well. Things appear to have improved slightly between them since, however
"Rio's obvious problems with the manager partly stem from his aggravating reference in training to 'what Jagielka would do' in similar situations.
"Moyes did not like being asked 'how does what Jagielka would do have anything to do with how United do things?' All in all, the verdict on Moyes at Carrington seems increasingly to be that he is clueless.
"A couple of weeks ago Moyes had them working on some defensive routine for over two hours. Apparently Ryan more or less stormed off, arms waving about in frustration, muttering words to the effort of 'two hours' defensive practice! This is Man United for f**k's sake.'"
Giggs was appointed to Moyes' backroom team alongside former United defender Phil Neville, who joined from Everton after retirement. However the legendary winger has played just 81 minutes since the first week of January and was left out of the squad to face Liverpool.
Rio Ferdinand's current contract expires at the end of the season but the club are yet to offer an extension, with the injury-ravaged 35 year old having started just eight league games.
After being urged to support Moyes in his debut season by the departing Ferguson, the United following is starting to turn on the 50-year-old with an online poll on leading club forum RedCafe.net seeing 92% vote in favour of the ex-Everton boss being sacked at the end of the season.
'United We Stand' editor Andy Mitten added: "The players clearly were not happy in the dressing room after the [Liverpool] game from what I've been told. It is not a happy camp.
"Manchester United fans expected a transition but they did not expect it to be so bad and be so far off the pace and for performances to be so bad.
"The mood over the last month has changed. What made it change was the defeat in Greece [to Olympiakos] three weeks ago. There were a lot of supporters who said this is a joke, this isn't good enough.
"The mood has definitely swung against David Moyes. Most United fans would like to see David Moyes do well but it's a dwindling support and most people have had enough. The breaking point has been reached over the last couple of weeks."
Final chance
The final chance for United to claim solace from a season in which they are expected to go without silverware for the first time since the 2004/05 campaign comes in the form of the Champions League last 16 second leg against Olympiakos where Moyes' side must overcome a two-goal deficit to reach the last eight.
In the face of criticism from the United fans, Moyes has called upon supporters to inspire the club to a second leg turnaround against the Greek champions.
"The fans were fantastic and deserve great credit for the way they supported the team today," Moyes said after the Liverpool match. "If they give us that support on Wednesday night, it will give us a chance of getting through in the Champions League.
"The players are well aware of what it means on Wednesday and what we have got to do. We've got something to go for so hopefully we can do that."
Speaking to manutd.com, he added: "The players are capable of turning it around. We're all desperate to put things right and make sure we play better to give the supporters here something to shout about."
Following the loss to Liverpool on Sunday United's official Facebook page was 'unliked' by 450,000 people - after executive vice chairman Ed Woodward had stressed the importance of social media engagement upon announcing the club's quarterly financial figures in February.