Great Britain finished day one of their Davis Cup World Group quarter-final match against France level at 1-1 following Andy Murray's 7-5, 7-6, 6-2 victory over Jo-Wilfried Tsonga.
The hosts, who have not reached the last four since 1981, suffered an early deficit at Queen's Club after James Ward was easily defeated in straight sets by Gilles Simon, but the world number three showed no signs of a hangover from his Wimbledon semi-final loss to Roger Federer and ensured Leon Smith's side head into the doubles on 18 July level pegging.
Tsonga has only ever beat Murray twice in 14 previous attempts, his last win came at the Canada Masters in 2014, and the first set was a fairly even affair as the weather conditions regressed from glorious sunshine to dreary and overcast.
The latter spurned a break point when leading 5-4 as his opponent found the net and Tsonga, forced to wait longer than he would have liked on serve due to crowd noise, eventually battled through and held with an ace to finally drive home one of several advantages.
Just as Ward has done earlier on, Tsonga took a heavy tumble when racing in from the baseline but got back up to take another game to deuce after two particularly poor Murray lobs had set him up very nicely indeed.
Home crowd energy
A failed challenge from the world number 12 to a forehand that drifted beyond the left sideline gave Murray an advantage and he successfully held his serve once more thanks to another unforced error.
Feeding off the energy of a home crowd that were eager and very supportive if not quite reaching the astonishing levels of noise witnessed in Glasgow during Great Britain's 3-2 win over the United States in March, Murray continued to display strong emotions and quickly veered between celebration and disgust depending on his performance on any given point.
With the first set seemingly heading towards a tiebreak, the 28-year-old engineered two break points in the 12th game and appeared utterly jubilant as Tsonga could only find the net with a volley.
That joy momentarily turned into despair, though, with Tsonga taking two break points of his own in the first game of the second set when a forehand from Murray was driven beyond the baseline.
The visitor then held as Murray enjoyed a spot of healthy rivalry with a noisy but good-natured pocket of passionate French supporters to his left and Tsonga looked to be on his way to levelling the score at one set apiece with a key hold from deuce that was assured when his opponent sent a forehand down the line that skewed wide.
Murray was then put under pressure on his own serve before breaking back in the sixth game. After Tsonga had fallen awkwardly once again while backtracking to meet a Murray return, he went 0-40 down before saving two of three break points with a strong serve. He could not prevent the third though as a careless forehand was rightly called out.
Epic tiebreak in the second
The second set remained on serve to force an epic tiebreak that saw Tsonga initially race to a 3-0 lead with a forehand towards the right sideline and a textbook example of serve and volley. An overarm smash got Murray on the board and the two continued to trade blows until finally the home favourite triumphed 12-10 when Tsonga, who wasted two opportunities of his own to take the set, crashed a forehand too long.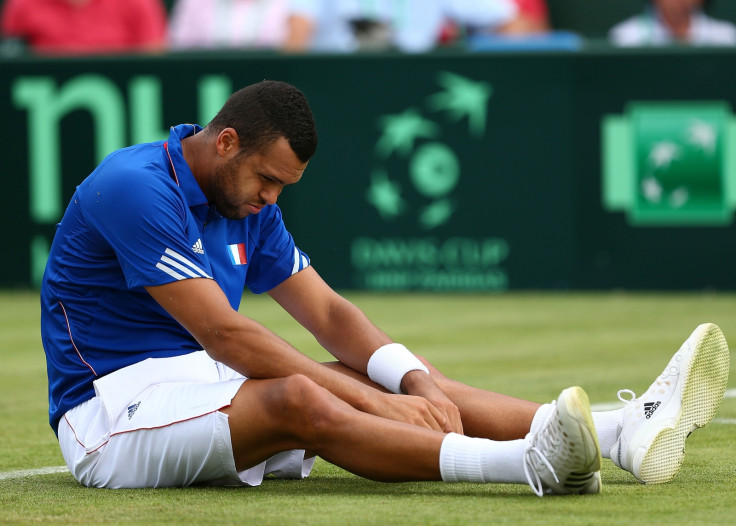 Murray traded medical timeouts with Andreas Seppi in rather farcical scenes in the third round at Wimbledon but any fears that Tsonga's break for treatment at the start of the third would stem his momentum proved short-lived as he opened by taking the second of two break points on a double fault.
He was almost broken back straightaway as a double fault of his own brought the score to 30-40, but he averted the danger with a powerful forehand and took the game after a mistake from Tsonga.
He was taken to deuce on his own serve once more shortly thereafter, but again it was saved after Tsonga fired the ball into the net and Murray closed out with confidence before extending his lead to 4-1 in the third by securing three break points with a quite sublime forehand winner down the line.
By now, the victory was a mere formality and although Tsonga held serve at 2-5, Murray was not to be denied and completed his straight sets win in two hours and 36 minutes.
"It was great atmosphere," he said after the match was complete. "A lot of people were asking me at the Queen's Club can they put on a Davis Cup atmosphere and I think they proved everybody wrong.
"It's a pleasure to play in front of crowds like that and we're going to need more support like that over the next couple of days if we're going to get the win."
Dominic Inglot and Jamie Murray are scheduled to meet Richard Gasquet and Nicolas Mahut in the doubles, although those pairings are, as ever, subject to change and the possibility of the younger Murray sibling being used by Smith on all three days remains very real as Great Britain look to battle against France's formidable strength in depth.