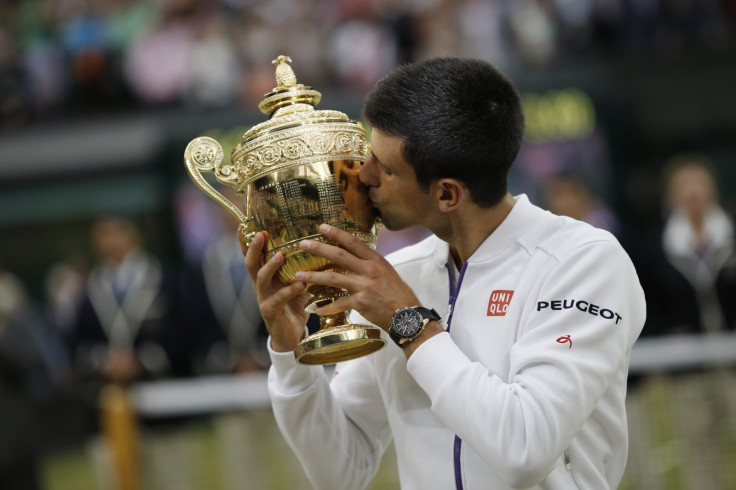 Novak Djokovic has won his third Wimbledon crown after defeating Roger Federer in another thrilling battle on Centre Court.
Djokovic, 28, has denied Federer what would have been a record-breaking eighth title at SW19 after clinching a 7-6 (7-1) 6-7 (10-12) 6-4 6-3 win in two hours and 56 minutes.
Federer saved himself from seven set points in an enthralling tie breaker in the second set to keep himself in the contest but it wasn't enough to deny the Serbian a deserved ninth Grand Slam.
The world no. 1 has now surpassed the likes of Andre Agassi and Ivan Lendl in the all-time list of major winners.
Federer drew first blood in the opening set, breaking Djokovic to love with the Serbian netting a week return to move 4-2 ahead inside 17 minutes.
The defending champion came roaring back, however, breaking Federer for just the second time in the competition and in 142 service games. A pinpoint forehand into the corner moved him into a 30-15 lead and Federer was soon on the receiving end of back-to-back break points as Djokovic moved level.
Djokovic saved himself from a string of break points before snatching the final game for himself with a looping forehand to force the inevitable tie break. A series of unforced errors however allowed the defending champion to ease into a commanding lead and seal a 7-1 win to take the first set.
Just days after producing arguably the most sublime tennis we have seen this year against Andy Murray, the Swiss was suddenly under pressure, failing to deal with Djokovic's power at the start of the second set.
The 33-year-old rediscovered a foothold in the contest, however, and soon the two heavyweights of the sport were back to another tie break. Djokovic threatened to put real daylight between himself and his opponent as he moved 7-6 clear, only for Federer to summon a magnificent recovery to save himself from seven set points before sealing an epic 12-10 tie breaker.
Starting the third set where he left off, Federer saved two break points to take the opening game but he was soon broken again after overcooking a return and sending it wide of the baseline.
Djokovic held to move 3-1 in front before rain forced the covers on. With clouds still building menacingly over SW19, play resumed with Djokovic picking up where he left off, holding at 4-2. The break did nothing to disrupt the champion's rhythm as he proceeded to tie up the third set, finishing the game to love with a superb forearm into the right out of Federer's reach.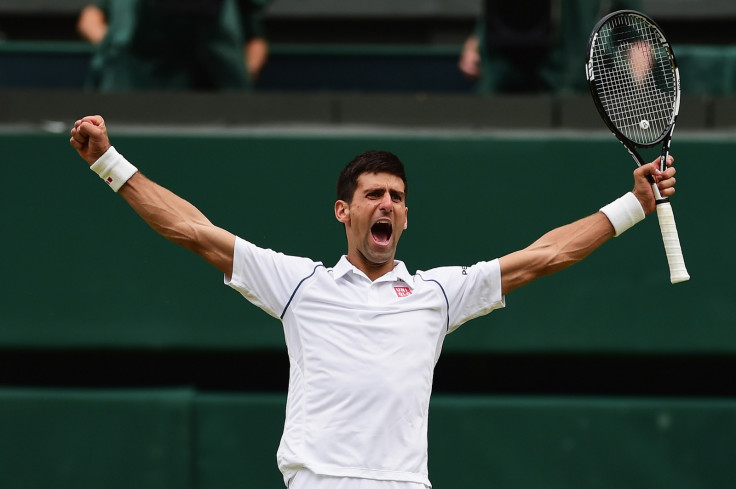 Firmly in the ascendancy, Djokovic went from strength to strength in the fourth set, breaking his opponent again in the fifth game after his probing return down the right could only be returned into the net by Federer.
For all Federer's panache, Djokovic's control kept him one step ahead but the 33-year-old refused to lie down, benefiting from a Hawkeye challenge before delivering a thundering forearm down the left to hold serve.
It could only delay the inevitable, however, as Djokovic retained his championship after two break points, sealing the win with a delightful cross-court winner.
"I knew coming on the court Roger is going to play like he always play, at his best when it matters the most. He makes you work hard every single point," Djokovic told BBC One after his win.
"You work hard all your life, every day. You envisage yourself being on the Centre Court, holding this trophy. It's a very thrilling feeling."
A typically gracious Federer added: "That is sport, we don't know the outcome. I had my chances in the first set. I got lucky to win the second, had chances in the third.
"But he was better on the bigger points. He was rock solid, I didn't play badly myself. That's how it goes.
"I work very hard, so do the other guys, I have a great team behind me. Without them it would not be possible. I am still very hungry and motivated. A privilege to play here, again. I would have loved to win but Novak was very good."