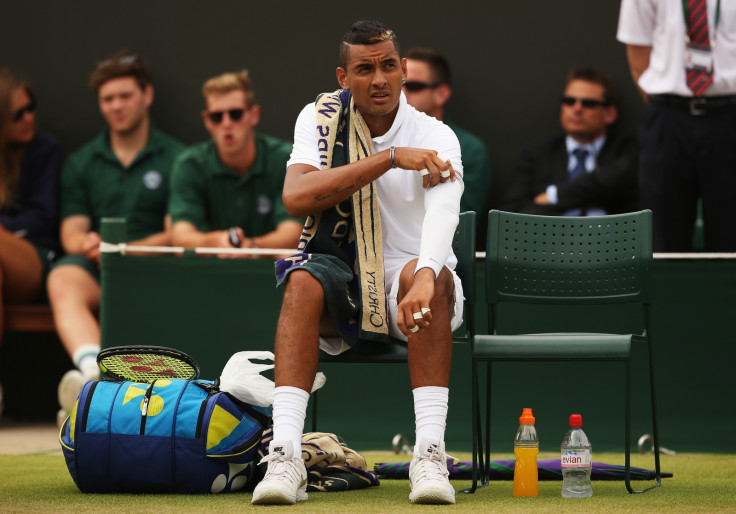 Australia tennis player Nick Kyrgios has labelled four-time Olympic swimming champion Dawn Fraser a "blatant racist" following pointed criticism over his conduct during his run to the fourth round at Wimbledon.
Kyrgios's antics have divided opinion at SW19, with the Australian number two having broken the Championship's clothing rules, as well as throwing his racket into the crowd while appearing to 'tank' during his fourth round loss to Richard Gasquet during his campaign.
During the last 16 clash, after being handed a code violation by the umpire for the use of bad language, Kyrgios hit two service returns tamely into the net and allowed a Gasquet serve to pass him without making an attempt to play the ball back into court.
The 20 year old is currently without a coach after splitting from Todd Larkham less than a month before the start of Wimbledon, where last year he reached the quarter-finals after beating Rafael Nadal.
Discussing his on-court behaviour, Fraser – a much heralded sporting hero in Australia – told Channel Nine: "They should be setting a better example for the young generation of this great country of ours. If they don't like it, go back to where their parents came from.
"We don't need them in this country to act like that. We need to set a good example for the younger children playing these sports and I can't see them wanting to get recognised. People won't want to talk to them."
Born in Canberra in 1995, Kyrgios' mother is from Malaysia while his father his Greek. In an overnight Facebook post that included a screenshot of Fraser's interview, Kyrgios slammed the comments.
"Throwing a racket, brat. Debating the rules, disrespectful. Frustrated when competing, spoilt. Showing emotion, arrogant. Blatant racist, Australian legend," he wrote.
The 77-year-old, a four-time Olympic and six-time Commonwealth Games swimming champion, has since apologised for the criticism.
"The live-to-air clip was part of a larger unbroadcasted interview, however this does not condone what was said," she said in a statement.
"Australians have a rich sporting heritage made up of individuals from a variety of different countries of origin."
Despite Gasquet prevailing 7-5 6-1 6-7 7-6, Kyrgios could yet face a fine of $250,000 (£160,860) for seemingly giving up mid-way through the second set, while he also argued with the chair umpire after taking an extended break between games to change his socks.
The International Tennis Federation has strict guidelines surrounding player conduct and should they find the two-time grand slam quarter-finalist guilty of "aggravated behaviour" they could enforce the maximum punishment.
"Of course I tried," Kyrgios maintained. ''There was a lot of ups and downs. It was a tough, tough time, especially when he's not missing any balls,
"I'm getting frustrated myself. I feel as if I'm playing not how I should be playing. I'm angry at myself.
"It hurts," he added during a heated post-match press conference. "You never want to go out of a grand slam. I feel like I definitely could have done better.
"There's a lot of things going on at the moment that aren't focusing on actual tennis. There's just a lot of stuff going on."