That season that comes but once a year is fast approaching – I am of course talking about the onset of the Christmas shopping period. I know that it is only early in November, but I am like a lot of people with families, preferring to get their present shopping done early and out of the way.
Did you know that UK households are the biggest Christmas spenders in Europe (Chart 1)? We spend an average of nearly £800 ($1,212, €1,127) at Christmas on presents, food, and drink, according to a recent survey by vouchercodes.co.uk. With spending on that scale, roughly £74bn hits UK shops and supermarkets between now and Christmas Day, providing a seasonal boost to retailers' profits.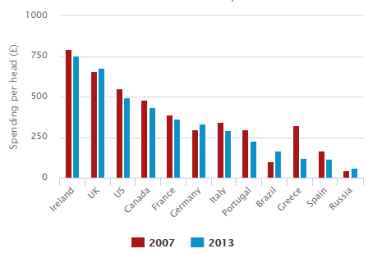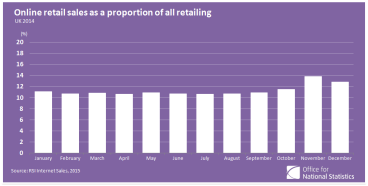 Online is the way to go
For organised present shoppers, the obvious solution for purchasing the vast majority of presents is via the internet. Online shopping over the Christmas period in 2014 accounted for 23.4% of all Christmas spending, worth £17.4 billion.
Christmas 2015 looks set to be an online spending season, given the 18% annual growth that online retailing has enjoyed so far this year, with 77% of men and 75% of women purchasing online. In fact, the UK leads the way in Europe in online shopping, with online retail sales now over 12% of total retail sales (Chart 2).
Apart from the obvious destination websites such as Amazon and increasingly eBay (which now sells more more new items than second-hand), which online shopping sites could do well this Christmas season?
Sports
For sports clothing such as football shirts, there is the online arm of Sports Direct (LON:SPD) which offers a lot of sale items that are not necessarily found in store. Sports Direct operate a click and collect service, where you can effectively get postage for free (you pay £5 but receive a £5 voucher when you pick up your items).
I am also a big fan of the Decathlon website, the online presence of Decathlon which has a number of stores in the UK, and which is the dominant French sports retailer. They do a lot of own-brand clothing and sport equipment, including bicycles, that generally represent very good value for money.
Toys
My two go-to websites for toys such as Lego and Nerf guns (as I have sons) are The Entertainer and Argos. A little tip: Argos also has an eBay store where it sells clearance and refurbished items on the cheap, so that can also be worth a look.
Electronics
The newly merged Dixons Carphone trades under the Currys and Carphone Warehouse brands online, great for those looking to buy TVs, computers or a new mobile phone for Christmas. They are now even offering what they claim is "the UK's lowest ever priced smartphone", at no upfront cost and a contract of only £5 per month. This could be an excellent deal for a first mobile phone for a child.
Clothing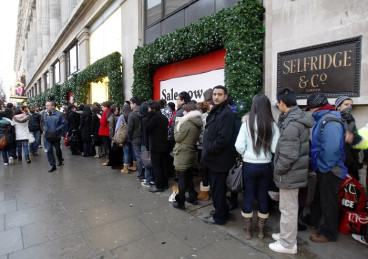 Pain-free online clothes present shopping can be accomplished with either Debenhams or Boohoo.com. A little tip: Debenhams are currently running a number of sale reductions on every department at the moment, so you might be able to grab yourself a little bargain.
Food & Drink
On the online supermarket front, the clear leader has to be Ocado, which offers up to 25% off your first online shop, plus a number of offers such as a wine sale where you save 25% if you buy 6 bottles.
My favourite quoted online retail stocks
Of these online retailers that I have mentioned above, which could deliver a pleasant surprise to investors as well as shoppers over the Christmas period? My two favourites are Debenhams (UK code: DEB) and Dixons Carphone (UK code: DC).
Debenhams remains a relatively cheap retail share, at a P/E of just over 11 times (much cheaper than other retail shares) and offering a decent income with a dividend yield of 4%. Sales should grow nicely in 2016 on higher profitability, with the online business performing very well and showing strong growth.
Dixons Carphone is more of a growth stock, with earnings forecast to grow 13-14% per year over 2016 and 2017, driven by ongoing strong mobile phone demand and the growth of its good value, own-brand ID Mobile mobile virtual network operator (MVNO) phone contracts.
So there you have it, two ways to profit from the boom in online shopping in the lead-up to Christmas.