Edmund Shing: Next and Sports Direct benefit from Rugby World Cup boon to retail sector
Napoleon Bonaparte famously derided Britain as "a nation of shopkeepers". Well, it turns out some 200 years later that he was quite accurate with his assessment.
According to the British Retail Consortium trade body, sales on the high street were very strong in September, growing by 3.9% compared with September 2014 (Chart 1). This was the best high street performance since January 2014, helped by a positive effect from the Rugby World Cup and a strong back-to-school period.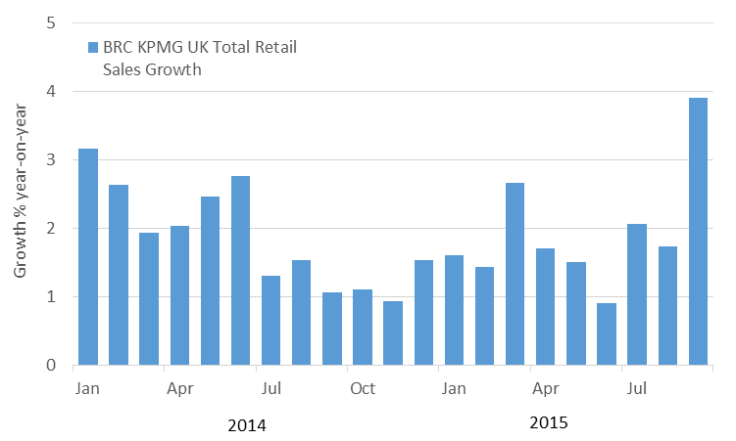 Chart 1: September was a strong retail sales month
BRC KPMG Retail Sales Monitor
Consumers are enjoying the benefits of a strong domestic economy, very low mortgage interest rates, and high-street prices that are on average falling by 2% year-on-year. We all love a bargain and there are clearly quite a few around at the moment.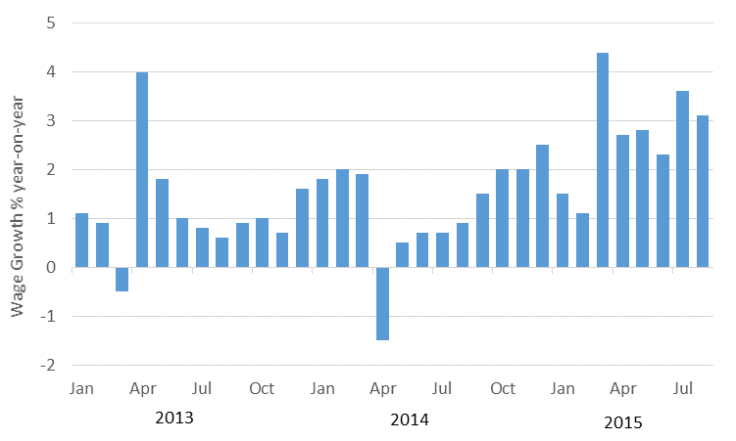 Chart 2: UK wage growth is accelerating
Bloomberg
Faster wage growth is a key consumer driver
Two things are driving this strong trend in consumer spending:
A record number of people in work - 33.7 million are employed today in the UK, two million more than at the end of 2009)
Faster wage inflation (Chart 2).
Where in retail should investors focus?
For investors who want to benefit from this consumer spending boom, there are two obvious choices.
You can either buy into the nation's supermarket chains to get exposure to food and drink sales (which have been boosted by the Rugby World Cup), or into non-food, specialty retailers focused more on areas such as clothing, footwear and sporting goods.
Supermarkets are a potential recovery play but risky
The big four supermarket chains – Tesco, Sainsbury's, Morrisons and Asda – have all suffered to a greater or lesser extent from extremely tough competition by discount retailers such as Aldi and Lidl. Moreover, food sales are clearly not where the growth is. September's total food sales rose just 0.2% over the three months to September – so non-food sales are where the action is right now.
If you want to buy Tesco (UK code: TSCO), Sainsbury's (UK code: SBRY) or Morrisons (UK code: MRW), you are buying them on the hope of continued recovery after what has been a terrible last few years. The danger with this "value" strategy is you may end up waiting a long time for real recovery, as I don't see the German discounters letting up on the pricing pressure in the food sector.
Clothing, footwear and furniture are hot retail segments
Digging into the detail of the latest British Retail Consortium retail sales report, the best-performing retail sales categories in September were actually furniture and footwear.
The top-quality name in the clothing and footwear retail sector is without doubt Next (UK code: NXT). It has established an impressive track record of growth over the last decade, boasts excellent profitability and delivers returns to shareholders via a combination of steady share price progression and a 4.4% dividend yield for income. Not only do they do a roaring trade in selling clothes, but are also strong in footwear, furniture and home wares, plus they have a fast-growing online presence too.
But if you want a stock that should benefit directly from the Rugby World Cup, then I would look at Sports Direct (UK code: SPD), founded by the infamous Mike Ashley, chairman of Newcastle United. Sports Direct is also a stock that has enjoyed steady growth in sporting clothing and footwear, that operates a "pile the high and sell them cheap" business model a little like Aldi and Lidl, and which also has a very strong online presence via sportsdirect.com.
So if you want to ride the retail sales train, hop on to Next and Sports Direct.
---
Edmund Shing is Global Head of Equity Derivative Strategy at BNP Paribas in London. He holds a PhD in Artificial Intelligence.
---
© Copyright IBTimes 2023. All rights reserved.