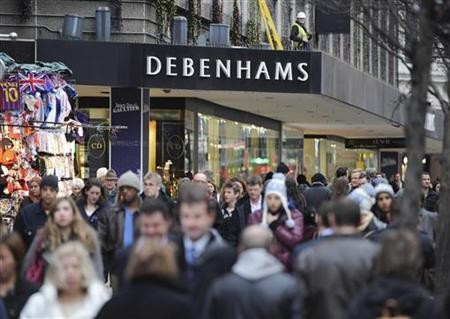 Shares of department store chain Debenhams have gained about 8 percent after the company forecast a better second half following a 5.4 percent fall in first-half profit.
The company said it made a profit of £120.3m ($184m, €140.1m) for the six months to 2 March, compared to £127.1m in the year-ago period. The figure was in line with the outlook given in a March profit warning when the firm said snow in January had dented sales.
Group revenues, however, increased by 3.6 percent to £1.28bn with like-for-like sales rising 3.1 percent primarily on online operations. Sales in the UK rose 3.9 percent to £1.08bn and international sales improved by 2 percent to £206.2m.
Operating profit was down 5.5 percent at £120.3m, with gross margin declining by 20 basis points, while operating costs rising by 4.7 percent. The company noted that its trading was hit by bad winter weather.
"We made progress during the first half although snow in late January meant we did not achieve the profit outcome we had expected," CEO Michael Sharp said in a statement.
The UK was severely disrupted by heavy snow during the two significant trading weeks at the end of January and the high-street suffered from declined sales. Debenhams' UK like-for-like sales have declined by about 10 percent during the period.
Debenhams said it had taken measures to recover sales in February, but it could make up for the lost sales in the previous month.
"We expect to make further progress in the second half, despite consumer sentiment remaining weak and challenging market conditions. We are committed to the opportunities afforded to us by the four pillars of our strategy to build a leading international, multi-channel brand," Sharp said.
The retailer operates 245 stores in 29 countries and is currently revamping its flagship store on Oxford Street as part of a wider plan to modernise its UK shops and lure customers.
Debenhams shares are trading at 86.65 pence, up 7.5 percent, as at 10:12 am.