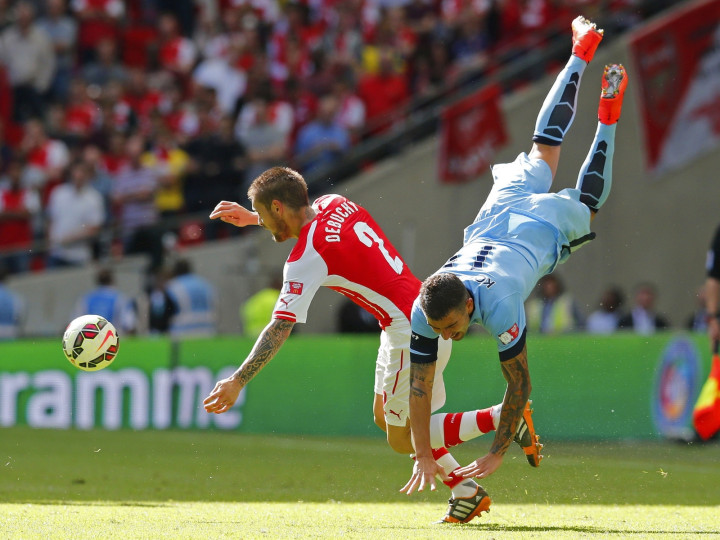 Mathieu Debuchy has backed new Arsenal signing Calum Chambers to replace him as the Gunners' right-back during his recovery from injury.
The French international defender suffered an ankle injury in the 2-2 draw with Manchester City on Saturday, and is expected to be on the sidelines for three months.
Chambers made his name at Southampton last season playing as a full-back, but Arsene Wenger has instead deployed him at the heart of defence since his £16m summer move to the Emirates Stadium.
The 19-year-old has impressed in his new role during the first few games of the season, but following Debuchy's latest injury he may have to revert to his original role.
"Calum is a very good player, he is very young and has a great potential," Debuchy told Arsenal's official website.
"He proved himself since the beginning of the season, when he performed very well. He is very talented and will bring a lot to Arsenal."
Chambers couldn't prove his worth during Arsenal 2-0 Champions League defeat against Borussia Dortmund due to an illness – with Wenger forced to hand youngster Hector Bellerin his debut in European competition.
Having played just 26 minutes in the first team, in a League Cup tie at West Bromwich Albion last year, the Spaniard admits his Champions League debut was a dream come true - despite the disappointing result.
"It's always your dream as a kid to make your debut in the Champions League. On the other hand, I'm gutted and we've just got to work harder in the next game," he told Arsenal.com.
"I never thought at that moment that I could make my debut here, but when they told me [on Tuesday] afternoon I was really happy. It is what you are waiting for since when you're a kid and you're just playing in the playground. I'm just really happy to get it out of the way, to make my debut on a night like this is good for me.
"[Playing first-team football] is what I want to be doing every weekend. It's good to get minutes with the under-21s but what you're here for is to play games with the first team. It was a really hard game but I'm glad I got to play here and hopefully there's many more games to come."