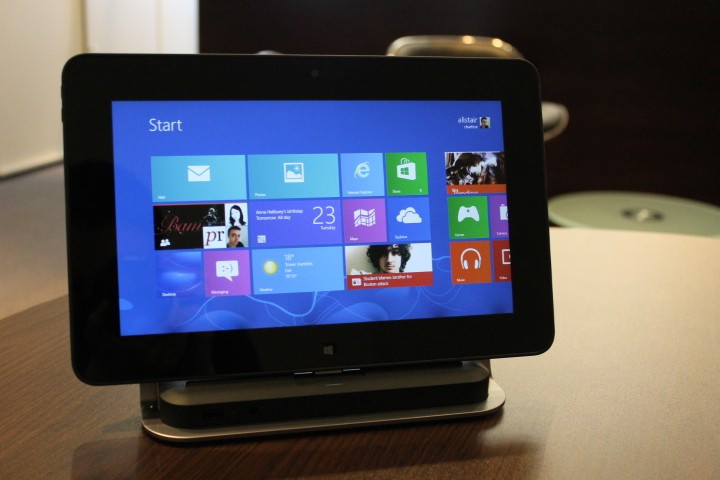 Key Features:
Windows 8 Pro
10.1in touch screen with optional Wacom stylus support
Intel Atom 1.8GHz processor with 2GB RAM
64GB flash storage (configurable up to 128GB), plus SD card slot
Desk dock with extra ports
Price as reviewed: £720 (excluding VAT)
Dell Latitude 10 Review
A look at the tablet market reveals a landscape littered with devices for fun. Gaming, surfing the web, watching TV; tablets are for enjoyment, and while it's possible to work on a spreadsheet on the iPad, you get the feeling Apple would rather show you how good Angry Birds and Netflix look, rather than your latest balance sheet.
Microsoft at least shows off the typing capabilities of the Surface and its clever magnetic keyboard covers, but now Dell has taken the tablet concept even further away from its fun, fluffy comfort zone with the Latitude 10, a 10in tablet running full Windows 8 Professional and boasting a huge removeable battery and a dock with more ports than a MacBook Pro.
Here then is a tablet aimed at business users who want a device which can give them Angry Birds on the train to work, a full Windows 8 experience during the day, and have enough battery left to watch a film in the evening.
Look and Feel
With its black screen border, charcoal grey, slightly rubberised back and solid, blocky construction it's obvious from the moment you pick up the Latitude 10 that it's a device for business.
Perhaps not as blocky and bulky as a company-issued laptop, but the Dell isn't too far off, with its unapologetically square design and a large, difficult to use switch for swapping the equally bulky battery pack. I wouldn't call it ugly, but it's definitely honest and functional
The 10.1in screen is protected by scratch-resistant Gorilla glass and surrounded by a large black bezel, something we've grown accustomed to, given the various Windows 8 gestures which make use of it.
As with most tablets of this size - save for the iPad - the Latitude 10 is designed to be used in landscape, so the webcam, Windows button and ports are all positioned accordingly.
My review unit came with the regular 2-cell battery installed, as well as the optional and larger/heavier 7,760 mAh battery, swappable thanks to a quick-release switch on the back of the tablet. With the larger battery installed, along with my unit's optional Smart Card Reader, the tablet measures between 10.5mm and 15.9mm thick and weighs more than 800g.
The tablet feels incredibly sturdy, well made, and I honestly think you'd struggle to make a mark on the rubberised plastic back - something I can't say about the scratch-prone aluminium iPad.
Along with the Smart Card Reader, the top edge is home to power and screen orientation lock buttons, as well as a full-size SD card slot, a great bonus for photographers as this is the standard used by almost all digital cameras.
On the left edge there's a volume rocker, while on the right you'll find a headphone jack, full-size USB 2.0 port and a mini HDMI port for connecting the Latitude 10 to an HD monitor. The bottom edge has Dell's proprietary charging port, as well as a microUSB port next to it, meaning there's two ways to charge the tablet and there's no need to worry about leaving Dell's own cable at home.
Finally, turn the tablet over and you'll find an 8-megapixel camera with flash, two speaker grills, and a switch to remove the battery, although getting the battery to detach is much easier said than done.
Dock and Connectivity
Setting the Dell apart from other tablets is its optional docking station, which connects to the tablet though its charging port and offers four USB 2.0 ports (one on the front, three on the back), a gigabit Ethernet socket and a full-size HDMI port, as well as a headphone jack on the front and Dell's proprietary charging port on the back.
The base of the docking station looks like two Apple TVs joined together to form a black rectangle about an inch thick, while the tablet is held in place by plugging in and resting back on a raised metal stand.
There's no locking mechanism to keep the tablet in place once docked, meaning the only thing keeping it stable is its own connection through the power port. I'm sure Dell has tested this, but I felt the tablet was precariously resting in place, and it wouldn't take much effort to bend the connection given the tablet's weight.
The dock has a rubberised panel underneath, helping it stay in place on your desk and not get dragged around by connected cables.
I was disappointed to see that the dock doesn't fold. I can't imagine that fitting a hinge to the metal stand would be difficult, and in doing so I'd happily throw the dock into my bag. As it is, the dock takes up a lot of unnecessary space and I'd be wary about letting it share my bag with anything breakable, tablet included.
Look beyond that design shortfall though, and the dock makes a lot of sense. Left permanently on your desk, it transforms a 10.1in tablet into a fully-fledged Windows 8 machine, with plenty of USB ports for external hard drives, thumb drives, an iPod and wired mouse and keyboard (Bluetooth also included, however).
Give a tablet the connections it needs for all of that, plus HDMI to a monitor, headphone jack to speakers, Ethernet to the internet (or connect over Wi-Fi) and power from the mains, and you have an instant desktop replacement, something the iPad can never really be, no matter how hard it tries.
Yes, you'd need to hook the tablet up to a monitor for it to become a genuine desktop replacement, but with HDMI that's easy, and I commend Dell for creating the dock as a means of broadening what a tablet can do.
A problem I have with the dock (apart from it costing £107 before tax) is that its ports do not function unless connected to the mains, so any connected USB drives will be ejected if the dock is unplugged. I can understand Dell thinking users would leave the dock connected on their desk at all times, but it's still a shame that the flexibility isn't there, especially considering the tablet's incredible battery life, but more on that later.
Screen
The Dell has a 10.1in display with a typical laptop resolution of 1366 x 768 and a pixel density of 155 pixels per inch. What this means in the real world is that the display is good enough, but one which is more suited to being viewed from a distance rather than closeup.
Text is perfectly readable, but some fonts appear more jagged than others, and while that isn't a deal breaker for me (it's amazing how quickly your eyes adjust to different resolutions) the inclusion of a full HD display would have further backed-up Dell's claims of this being a high-end tablet for getting work done.
Away from counting pixels, my review unit had the optional active stylus support which means it can interact with a Wacom stylus. Dell charges £24 for the stylus, but I found the technology to work with other Wacom devices, such as the stylus of a Samsung Galaxy Note 2 smartphone.
Software, Performance and Battery
Being more keyboardless laptop than tablet, the Latitude 10 has the performance to match your current Windows machine. It's Atom processor may not have the grunt to deal with intense 3D gaming, but for most day-to-day tasks it'll quietly and quickly do just as you ask. Lighter games are fine and switching between apps - even between streaming video - is performed effortlessly and with no lag.
My review unit came with Windows 8 Pro installed, so it has Microsoft's new tiled interface as well as the conventional desktop we're all used to, albeit minus the Start button. Unlike Windows RT, as found on Microsoft's own Surface RT, full WIndows 8 lets you run programmes from older Windows operating systems, as well as the new range of apps for that tiled Start screen, giving you the best of both worlds..
Battery life is where the Dell comes into its own, and with the (£23) optional larger battery fitted the results are truly exceptional. After six hours of streaming video from Netflix over Wi-Fi and with the screen at about 70 percent brightness the tablet still had 70 percent battery left.
Where other manufacturers offer slim, lightweight design, Dell has recognised the need from business users for an all-day battery life, and has rightly (in my opinion) compromised on looks and portability to offer hugely impressive stamina.
Value
The Dell Latitude 10 starts at £375 excluding VAT (being a device aimed at business users, all prices quoted in this section will be without VAT, which currently stands at 20 percent).
For that you get the 'Essentials' model with 32GB of storage (an increase to 64GB costs £39) and a non-removable battery. Dell charges £453 for the next model up - confusingly called Standard - and that comes with the additions of active stylus support, a removeable battery and 64GB of storage.
Next, there's the £522 NetReady model, which has built-in 3G thanks to a microSIM card slot under the battery.
Finally, Dell charges £107.50 for the dock, £24 for a Wacom stylus, £23 for the larger battery and £45 for the upgrade from Windows 8 to Windows 8 Pro.
The bottom line is if you want the 3G tablet with docking station, extra battery and stylus you'll be paying around £700, or slightly more than the 64GB, 4G iPad once VAT is added on.
Verdict
The Latitude 10 isn't like other tablets. Where they lean more towards fun and games than productivity, from the outset it's clear that Dell wants you to get work done. Of course it can stream Netflix films and play Cut The Rope as well as the next tablet, but the emphasis here is on work, especially thanks to that huge optional battery, masses of ports and Windows 8 Pro.
Set up with the docking station, keyboard and mouse, the Latitude 10 gets very close to a low- to mid-range desktop replacement - it gets much closer if you plug it into a large monitor - and it can always be scooped up and taken away to read on the train, play a game or watch a film.
It doesn't manage work or play absolutely perfectly, but once you're over the weight and bulk of it with the extra battery installed, the compromises are seriously reduced.
Crossing the £700 threshold puts it worryingly close to a huge range of Ultrabooks, and even some with touchscreens, but they arguably still lack the portability, battery life and sofa-surfing ability of a tablet.
It's not the lightest, the slimmest, the cheapest or the best looking. But the Latitude 10 helps you get stuff done. It's the full Windows 8 experience with desktop connectivity, tablet portability and a phenomenal battery life.
Scores:
Overall: 8/10
Screen: 7/10
Design: 7/10
Performance: 9/10
Value: 8/10
The Good:
Incredible battery life
Good value if connectivity and battery life are key
Feels tough and well made
The Bad:
Average screen
Dock isn't too portable, lacks secure connection to tablet
Heavy if held for a long time