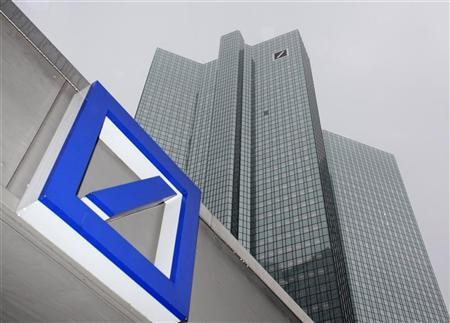 Germany's central bank has launched a probe into Deutsche Bank for allegedly mis-valuing a giant credit derivatives portfolio over a period of four years and therefore allowed it to hide billions of euros worth of losses.
According to unnamed sources cited by the Financial Times, the Bundesbank launched the investigation into Germany's largest lender, following allegations that surfaced at the end of last year from a whistleblower, that claimed that Deutsche Bank mis-valued a portfolio of credit derivatives trades from 2007 to 2010 and therefore had hid losses worth €9.4bn (£8bn / $12bn) .
The FT adds in its report that the central bank's investigators are intending to interview both current and former Deutsche Bank employees, who have knowledge of the company's dealings in credit derivatives at the time and are also flying out to New York in relation to the probe.
A Deutsche Bank spokesperson told IBTimes UK that "allegations that Deutsche Bank mis-valued a portfolio of credit derivatives are more than two and a half years old. The claims have been the subject of a careful and thorough investigation, and they are wholly unfounded. Moreover, the investigation revealed that the allegations stem from people without responsibility for, or personal knowledge of, key facts and information. We have and will continue to cooperate fully with our regulators on this matter."
A spokesperson at Bundesbank told IBTimes UK that it is unable to comment on any form of alleged or active investigation or to comment on an individual institution.
On 5 December 2012 law firm Labaton Sucharow LLP released a statement on its website, stating it and a whistleblower protection and advocacy agency, the Government Accountability Project, is representing a former quantitative risk analyst at Deutsche Bank.
In the statement the law firm says that Dr. Eric Ben-Artzi used a whistleblower programme to notify the US Securities and Exchange Commission of the German lender failing to report the value of its credit derivatives portfolio correctly for that four year period.
Labaton Sucharow also adds that Ben-Artzi is believed to be the first SEC whistleblower to share his story publicly.
"I never wanted or expected to be a whistleblower. I reported internally first and extensively, in accordance with bank policies and procedures. As the problem was not acknowledged or corrected, I felt compelled to inform the proper law enforcement authorities. Unfortunately, my family and I are paying a heavy price for doing the right thing," says Ben-Artzi in the statement.
According to the law firm's statement, Ben-Artzi's allegations originate from discovering and reporting possible securities violations, "stemming from Deutsche Bank's failure to accurately report the value of its credit derivatives portfolio with the notional value of $120-$130bn."
Meanwhile, European Union regulators are still probing 16 investment banks and independent data groups across two anti-trust investigations to determine alleged manipulation of the credit derivatives market.
Deutsche Bank shares were trading 1.45 percent higher in Frankfurt Thursday, changing hands at €30.84 each.