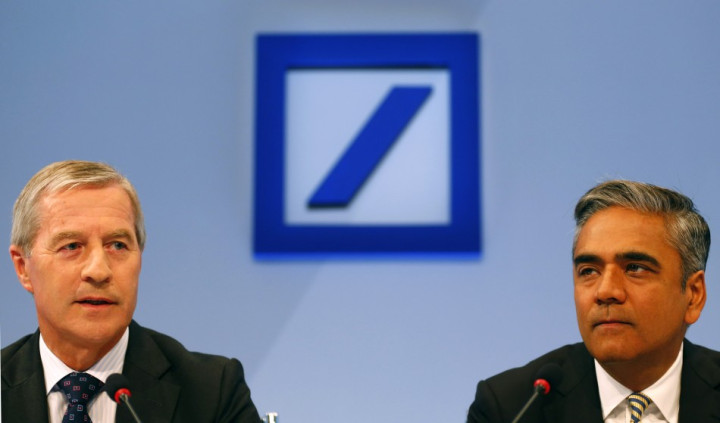 Deutsche Bank said its fourth quarter earnings will suffer a "significant negative impact" from costs linked to its on going restructuring on the slowing global economy.
Germany's biggest bank said that costs associated with the completion of the so-called 'bad bank', or Non-Core Operations Unit (NCOU), it unveiled in September as well as difficult global macroeconomic conditions and new capital requirements, will have a significant negative impact on its fourth quarter earnings. Around €122bn ($159.4bn/£98.8bn) worth of assets will be sold to the NCOU, the bank said.
"Our year-end closing activities including impairment reviews and the review of provisioning levels, are still ongoing," the bank said in a statement published Thursday. "However, we currently expect these specific items to have a significant negative impact on the Bank's earnings in 4Q2012."
Deutsche Bank's shares fell nearly 3 percent following the statement in Frankfurt, changng hands at €33.29 each. The shares have risen 13.1 percent so far this year.
The bank's third-quarter pre-tax profit, reported on 30 October, rose to €1.1bn thanks in part to a rebound in bond market trading.
The restructuring was initially announced in September this year, where the German lender promised to cut more costs, strengthen its balance sheet and rein in bankers' pay.
Deutsche Bank chiefs pledged that it would be at the forefront of a new look investment banking culture, where is would pare down risk-taking, curbing bonuses and strengthen the banks capital health in line with new regulations.
Meanwhile, Deutsche Bank face a number of regulatory probes on alleged key interbanking lending rate manipulation.
On 12 December, German authorities revealed that Deutsche Bank 's co-chief executive officer Juergen Fitschen and chief financial officer Stefan Krause are under investigation into a tax evasion scheme involving the trading the trading of carbon permits, after Frankfurt prosecutors raided the bank's offices that morning.
Deutsche Bank said in a statement to IBTimes UK that Fitschen and Krause "are involved in the investigations, as they signed the VAT statement for 2009. The bank corrected this a long time ago voluntarily. Unlike the Public Prosecutor's Office, Deutsche Bank is of the opinion that this correction took place in due time."