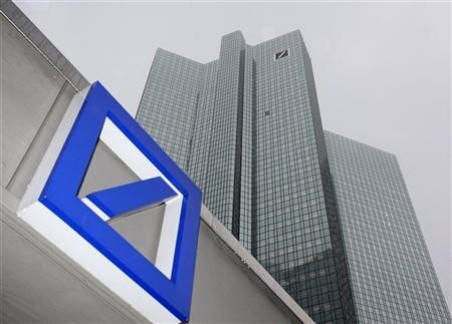 Deutsche Bank 's co-chief executive officer Juergen Fitschen and chief financial officer Stefan Krause are under investigation into a tax evasion scheme involving the trading the trading of carbon permits, after German prosecutors raided the bank's offices this morning.
The Frankfurt Prosecutor's office said 25 employees of the bank were suspected of serious tax evasion, money laundering and obstruction of justice in relation to the carbon markets and these two individuals are being investigated as part of the wider case.
The probe is believed to be connected value-added-tax (VAT) 'carousel fraud', where goods were imported VAT-free then sold on to domestic buyers at a price that includes VAT.
Since this morning's raid, where 500 police officers dived on Deutsche Bank offices and private properties in Frankfurt, Berlin and Dusseldorf, arrest warrants have been issued for five of those employees.
Eight policemen wearing dark blue overalls and armed with handguns were stationed in the bank's lobby and appeared to be coordinating a high-profile search of the glass towers which can house up to 3,000 staff.
Deutsche Bank said in a statement to IBTimes UK that Fitschen and Krause "are involved in the investigations, as they signed the VAT statement for 2009. The bank corrected this a long time ago voluntarily. Unlike the Public Prosecutor's Office, Deutsche Bank is of the opinion that this correction took place in due time."
In the context of the entire investigation, it said that "as part of investigations which began in spring 2010 focusing on a limited number of individuals under suspicion of VAT fraud associated with the trading of carbon emission certificates, the Frankfurt Public Prosecutor's Office conducted searches today of Deutsche Bank's premises. Deutsche Bank continues to cooperate fully with the authorities."
Years of Investigations
In 2011, a German court jailed six men over a €300m ($391m £249m) fraud selling carbon emission permits through Deutsche Bank.
In the same year, Alexander Badle senior prosecutor for the Office of the Attorney General of Germany said in a statement that Germany has lost hundreds of €850m in tax revenues to frauds involving carbon emissions trading.
At the time, Badle said that 180 people were being investigated for their roles in carbon market tax fraud.
Over the years, there have been a number of investigations and arrests involving carousel fraud in the carbon markets.
In 2010, four people were formally charged by the Belgian authorities for money laundering in the trading of carbon emissions permits.