After their business affiliation ended in the mid-1990s, Suge Knight and Dr. Dre's relationship has been notoriously contentious. That feud is set to escalate as the hip-hop heavyweight, and ex-Death Row honcho, has accused Dr. Dre of trying to kill him.
His allegations stem from a 2014 incident which saw Knight, who has cheated death multiple times with Oscar-winning flair, shot six times at a Chris Brown-hosted party in Hollywood. He was rushed to hospital and received life-saving surgery.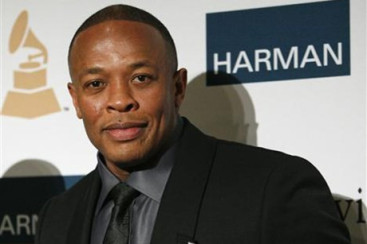 In the latest conspiracy linked to him, Knight (Marion Hugh Knight Jr.) claims that Dre (Andre Romelle Young) plotted with a former detective in a plot to kill him. In court documents, obtained by TMZ, Thaddeus Culpepper, Suge's lawyer, alleges that sheriff's deputy Henry Boyd was working at the 1OAK club in West Hollywood when he let the shooter inside the club. Surveillance video has allegedly corroborated with the assertion that Boyd let the gunman in shortly before shots were fired.
Although he made a full recovery, Knight suspects he was never meant to make it out alive. Legal documents purport that the shooter confessed to Dre paying him and a friend $50,000 (£35,000) to take Knight's life. In a bizarre twist – the sheriff's department then released the shooter from custody.
IBTimes UK has reached out Dr. Dre's representatives for comment and is awaiting a reply.
Some conspiracists claim that Knight, who ruled Death Row with an iron fist, also has blood on his hands. Long-standing rumours implicate Knight in the murders of Christopher 'Biggie Smalls' Wallace (Notorious BIG) and Tupac Shakur (2Pac) during the infamous 1990s East Coast-West Coast hip hop rivalry.
One of the officers who investigated Shakur's death, former LAPD detective Russell Poole, suggested that Knight killed the rapper because Shakur wanted to part ways with Death Row. Allegedly Knight then conspired in the murder of Wallace to divert attention from his hand in Shakur's murder. "Suge Knight ordered the hit," Poole said in a 2001 interview with VH1.
In 2015, vintage footage of Knight emerged of him joking about NWA rapper Eazy-E's death with the suggestion that injecting someone with HIV is the best murder technique. This led scores of fans to believe Knight murdered Eazy-E, real name Eric Wright, who died aged 31 in 1995 due to complications from HIV and AIDS.
Knight is currently on trial for the murder of Terry Carter, and attempted murder of Cle 'Bone' Sloan. The deaths resulted from a hit-and-run, following an alleged argument on the set of a trailer for the film Straight Outta Compton.