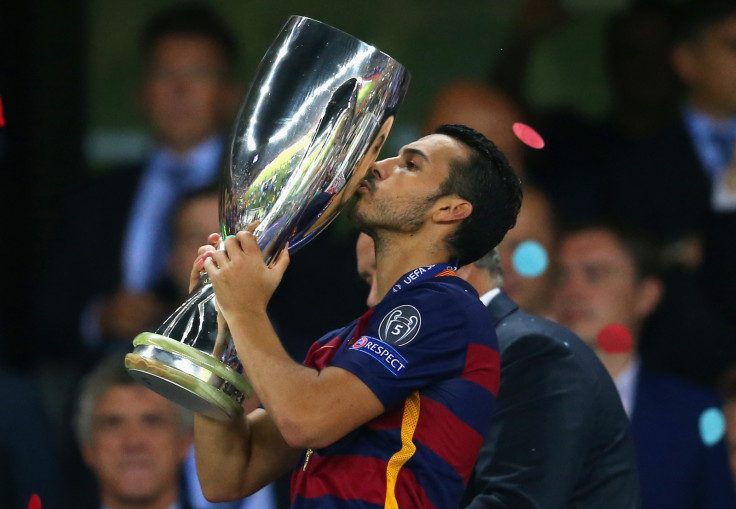 Former Manchester United striker Diego Forlan has accused Pedro Rodriguez of settling for a lesser club in Chelsea. The Premier League champions confirmed the arrival of the 28-year-old World Cup winner on Thursday 20 August , paying Barcelona an upfront fee of €27m (£19.2m, $30.2m), with €3m to follow in performance-related add-ons.
His move to Stamford Bridge comes just days after United chief executive Ed Woodward travelled to Barcelona to finalise a deal for the player. But the Old Trafford club failed to actually trigger Pedro's €30m release clause, according to the Guardian, allowing Jose Mourinho's side to step in.
The Daily Mail has since suggested United decided to pull out of talks with Barcelona, a move prompted by manager Louis van Gaal. While the failure to sign a two-time Champions League winner in Pedro has provoked frustration among sections of United's support, former striker Forlan insists that if Van Gaal really wanted to sign the player, the club would have done so with no problems.
"Pedro was reportedly going to Manchester United for the last month, but United didn't complete the deal," Forlan wrote in his column for the National. "Maybe they have a plan B, maybe they are more relaxed after winning their first three matches. They wouldn't be relaxed if they had one point from six like Chelsea. If United were desperate for Pedro, a very good player, then they would've signed him."
Forlan went on to warn Pedro that he may come to regret his decision not to push for a move to Old Trafford, insisting Mourinho's side are no match for his old club. He said: "As a player, I know who'd I'd choose if Manchester United and Chelsea came in for me. One is one of the three clubs biggest in the world; the other is a club who've grown because of a rich owner. But I always remember my old captain Roy Keane before a game against Tottenham Hotspur.
"Tottenham think they're a big club and they are in London, but they're not really a big club, they don't compare to United. Chelsea are the same. When I moved to England they were not a team which came close to winning big trophies. Money changed them."