Preparations for Diwali, India's festival of lights, are gathering pace just two days ahead of the nationwide celebration.
Diwali, which is celebrated on the fifteenth lunar day of dark fortnight in the Hindu calendar month of Ashwin, falls on 3 November and is expected to witness a huge celebration.
The festival marks the worship of the Indian deity of wealth, Goddess Lakshmi, and is thought to be the occasion when the goddess bestows her believers with blessings. To welcome the goddess, people light diyas (earthen oil lamps) in their houses, the tradition from which Diwali derives its name.
Diwali celebration is as much as about colourful decorations as it is about lighting of the lamps.
Houses are adorned with floral garlands and other embellishments, while sweets, confectioneries and other culinary delicacies are prepared and offered to God, as part of the ritual.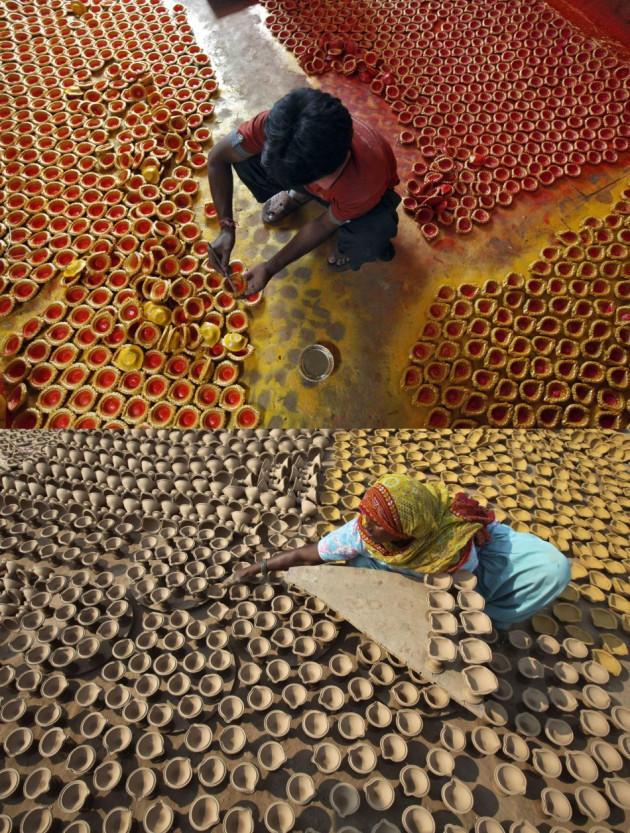 Lighting diyas on a dark night (Amavasya) of Diwali also signifies the victory of good over evil. In Indian mythology, Diwali was first celebrated during the lifetime of Hindu epic hero, Lord Ram. The festival commemorates the return of Ram to his kingdom (Ayodhya) after 14 years of exile. To recreate the event, people celebrate Diwali and greet each other with traditional Diwali wishes, saying "Shubh Diwali."
A day before Diwali, on the thirteenth lunar day, gold jewellery, silver utensils or other precious items are bought. The tradition is called Dhanteras ("Dhan" means wealth and "teras" means 13), which marks the start of the worship of Goddess Lakshmi.
Though centered in India, Diwali is celebrated across the world, including the United States and Malaysia because of the Hindus, Sikhs and Jains residing in those countries.