Diwali 2013: Hindu Festival of Lights Celebrated Around the World [PHOTOS]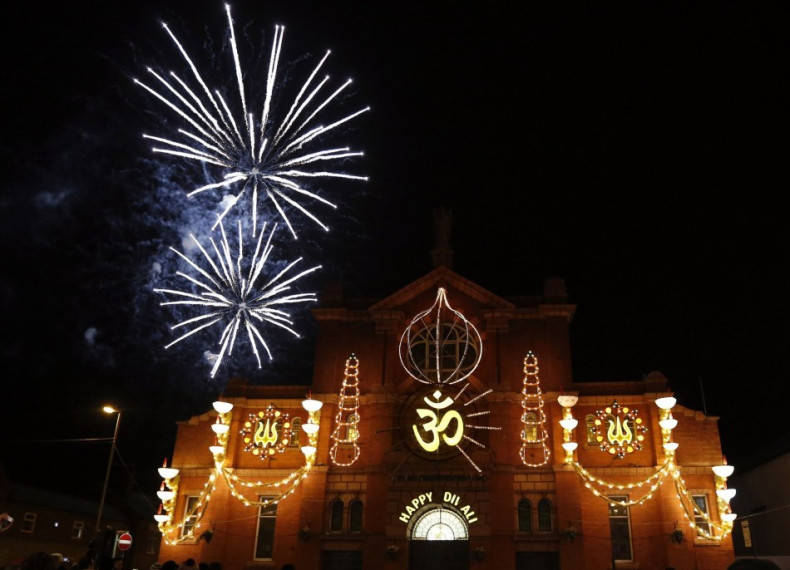 Of lights, celebrations, confectioneries and Hindu mythology, Diwali is one Hindu festival that has gone beyond the borders of India and is now celebrated across the world owing to the numbers of expats residing outside the country.
Diwali 2013 was celebrated across India, Sri Lanka, England, USA and Malaysia with great fervour.
One of the biggest Diwali celebrations outside of India was observed in Leicester, with up to 35,000 people attending celebrations in the heart of the city's Asian community.
This year, the five-day festival began on 1 November with Dhanteras ("Dhan" means wealth and "teras" means 13), which marks the start of the worship of Goddess Lakshmi, the deity for wealth in Hinduism. On Dhanteras, Hindus buy metal items, including gold or silver jewellery or steel or brass utensils.
The dark night when the festival of lights is actually celebrated with lighting of diyas (earthen oil lamps) and Lakshmi Puja, fell on 3 November - the fifteenth lunar day of dark fortnight (Amavasya) in the Hindu calendar month of Ashwin. The Hindu's epic hero, Lord Ram, is said to have returned to his kingdom (Ayodhya) after 14 years of exile on the same day thousands of years ago, when people lighted diyas to welcome Ram.
Lord Ram returned after killing Ravan, the cruel king of Lanka what is now today the island country of Sri Lanka, located south of India. Diwali marks the commemoration for victory of Ram's goodness over Ravan's evil.
Diwali 2013 ends on 5 November with the final celebrations of Bhai Duj, a festival in which sisters pray for the longevity of their brothers.
Catch a glimpse of Diwali celebration from around the world here: