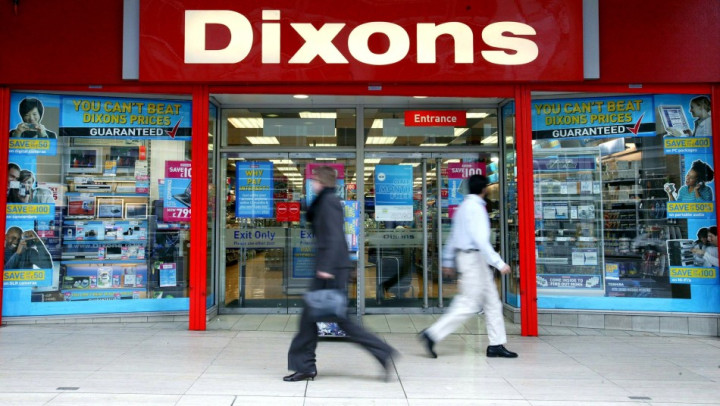 Electronic goods store Dixons is the latest high street retailer to suffer from the consumer crunch during the pre-Christmas period.
Its like-for-like sales for the three months leading up to 31 December were down five percent.
Despite the results reflecting the drop in consumer confidence in the retail sector, which shows no sign of letting up, the company's chief executive remains resolute.
"This is a solid performance against a challenging backdrop. Our service-led business model continues to win over customers in all our key markets," said John Browett.
He is, however, cautious about 2012's prospects.
"Consumer confidence in many of our markets remains fragile and we will maintain a cautious approach to the outlook for the year ahead," Browett added.
Peacocks and Past Times Enter Administration
Clothing chain Peacocks and gift retailer Past Times have both entered administration, as further casualties of the stricken retail sector.
"The board of the Peacock Group and its advisers have been discussing for some time the restructuring of the business with the group's lenders," said a statement from Peacocks.
"Unfortunately, these talks have now concluded and no agreement has been reached."
The company employs around 10,000 people across the UK in its 611 shops, but has high levels of debt - around £577 million.
Its chief executive, Richard Kirk, is reportedly close to a deal to save the chain.
Past Times is also facing difficulties, as accountancy firm KPMG announced it is in administration.
"The loss-making high street business is a casualty of difficult trading conditions for the retail sector, which has seen discretionary spend fall as consumer confidence declined during the last year," said a statement from KPMG.
"Prior to the appointment of administrators, the company closed 46 stores, resulting in 507 redundancies, as well as completing the planned closures of 72 "pop-up" temporary stores.
"The remaining business, comprising 51 stores and 500 employees, is continuing to trade under the control of the administrators in the short term. There will be an orderly wind down in the event a going concern sale cannot be concluded," the statement added.
High Street Retailers Facing 'Bleak' 2012
Business advisers Deloitte recently published a report research showing that retail's "tough year" in 2011 would continue into 2012, predicting a rise in high street administrations.
The British Retail Consortium, the leading trade association, is also warning of further administrations throughout the coming year.
Britain's economy may already be in a double-dip recession, warned the Centre for Economics and Business Research. The forecast from the leading economics thinktank could further dampen consumer confidence and provide another stumbling block for the country's ailing retail sector.