Obsessive fans of Doctor Who reacted furiously today when it emerged that some of the scripts for Season 8 of the cult BBC show have been leaked and published online at bleedingcool.com.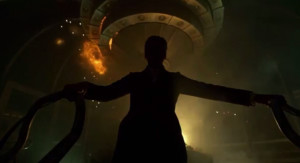 The BBC admitted the "security issue" and appealed to fans whose curiosity gets the better of them not to give away spoilers which ruin the experience of viewing Doctor Who for other fans. The scripts are thought to have leaked from the BBC Worldwide's US office.
Season 8 of the revamped Doctor Who will be the first to star "The Thick of It" actor Peter Capaldi and is not due to be broadcast for another seven weeks, the first show going out on BBC1 on 23 August.
Doctor Who fans reacted furiously online. One tweeted: "If I see a genuine Doctor Who Season 8 leaked script spoiler on here I will hunt you down and kill you."
Fans of the show are notoriously fervent, but some are so fanatical they have annoyed executive producer Steven Moffat. He said of "fans" who reveal plot lines before transmission: "You can imagine how much I hate them. I wish they could go and be fans of something else."
"Doctor Who" was first broadcast in 1963 and ran till 1989, after which there was just one TV film in 1996 before the show was re-launched in 2005. Capaldi will be the 12th Doctor, others including Christopher Eccleston, David Tennant and John Pertwee. The show is sold around the world, generating huge revenue for the BBC, who are understandably embarrassed at the leak.
BBC Worldwide said: "We deeply regret this and apologise to all the show's fans, the BBC and the cast and crew who have worked tirelessly making the series. We would like to make a plea to anyone who might have any of this material and spoilers associated with it not to share it with a wider audience so that everyone can enjoy the show as it should be seen when it launches. We know only too well that Doctor Who fans are the best in the world and we thank them for their help with this and their continued loyalty."