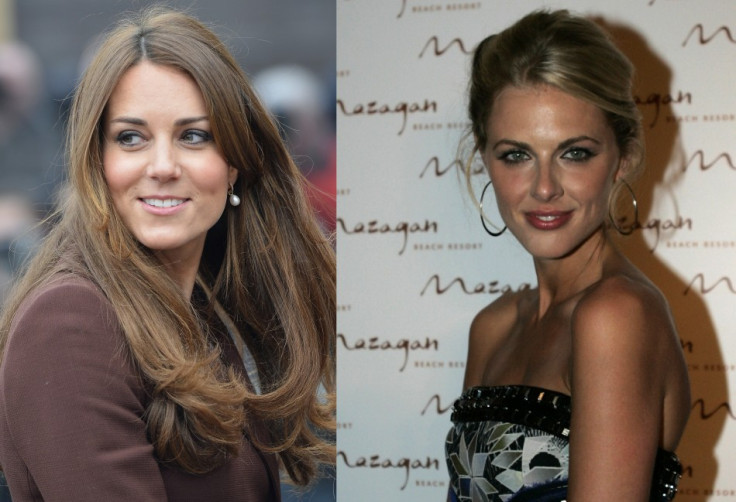 Donna Air looks set to become Kate Middleton's sister-in-law after the presenter and girlfriend of James Middleton was spotted with a diamond ring on her engagement finger.
Air, who found fame in the 90s as an actress in Biker Grove before moving into TV presenting, has been in a relationship with the Duchess of Cambridge's younger brother since February.
Attending the Serpentine Summer Party in London, Air, 33, arrived with Middleton, 26, and they spent the evening mixing with celebrities and Princesses Beatrice and Eugenie.
The couple met at a private members' club in Mayfair and have been discreet about their relationship until now, rarely being spotted out together.
Kate's feelings about her brother's potential bride are unknown but it is believed that Pippa Middleton approves of the relationship.
A source told the Daily Mail: "[Donna and Pippa] don't like to spend time at events together but are very close.
"There's no denying the girls are from different castes. But they're also very different women. Only time will tell if that's a good thing."
Air was in a long-term relationship with casino owner Damian Aspinall. They had a daughter together in 2003 but separated four years later.
She recently said of the aftermath of the breakup: "It has been an uphill struggle, as any woman starting again knows. It ain't no picnic. It ain't no walk in the park when you have children and you go through a separation."
Kate has been shopping for furnishings to go in the 57-room apartment at Kensington Palace she will share with William.
One antiques shop manager in Suffolk said she called at his shop unannounced in the company of a friend and two bodyguards and spent an hour in the store before leaving with some china.