A British company has broken the world land speed record for electric cars, achieving a speed of 204.1mph, almost 30mph more than the previous record, which had stood since 1974.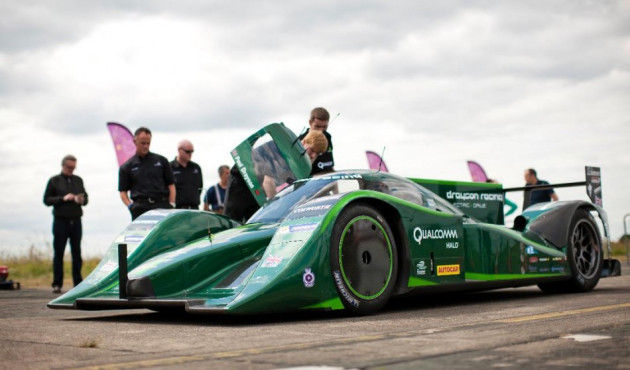 Oxfordshire-based Drayson Racing Technologies smashed the record with a modified Le Mans-style Lola B12 69/EV on a runway at RAF Elvington in Yorkshire, piloted by company chief executive Lord Drayson.
Founded in 2007 by self-declared "car nut" Paul Drayson, who was then a science minister in the Labour government, the company works with other firms to develop more sustainable automotive technologies, and uses the arena of motorsport to test out its efforts.
Lord Drayson said: "This is a true celebration of Britain's leading position within the burgeoning electric vehicle industry and I'm delighted to be at the forefront of this electric revolution. We hope to set more records tomorrow."
The Drayson team hopes to break the acceleration record for electric vehicles later this week, after which a full breakdown of the team's achievements will be published.
In order to qualify for an attempt on the land speed record for electric vehicles, Drayson had to abide by rules laid down by the FIA (Federation Internationale de l'Automobile), the motorsport governing body which also oversees Formula One, and this meant creating a car weighing less than 1,000kg without the driver.
After sourcing the Le Mans Series car from fellow British racimg company Lola, Drayson then went about removing its bio-ethanol engine and replacing it with a lightweight 20 kilowatt hour battery, producing the equivalent of 850 horsepower - about the same as a Formula One car.
Google chairman Eric Schmidt spent two hours watching the Drayson team complete practice runs earlier in the day, perhaps curious about how such electric technology could be used by Google's self-driving car project.
"What it, I hope, shows to people is just what the future potential of electric cars is," Lord Drayson told the BBC after his record-breaking time was confirmed by officials.
To set an official land speed record, the driver must complete two high-speed runs across a measured mile in opposite directions within an hour of each other, and an average of the two is taken to determine the speed achieved.
Drayton added: "Obviously this is a very special racing car, but by setting this new world record here in Britain we say two things. One, it is a pointer to the future - the technology that we developed for this car will filter down to the cars we use every day.
"And secondly it's a message about how here in the UK we're a world leader with this technology. We've led motorsport engineering, now we're also leading with electric motorsport engineering."
More than just small city cars and Teslas, the potential for high performance electric cars is growing all the time. Earlier this week Nissan announced its Zoed RC (zero emissions on demand racing car) at the Le Mans 24-hour race in France, which it hopes to enter next year to prove the technology is a viable alternative to its petrol and diesel rivals.