Drone pilot accidentally knocks himself out with his own quadcopter [Video]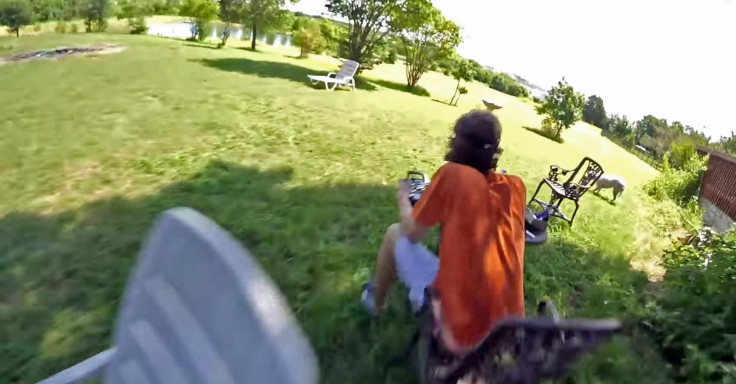 A man has captured the moment he managed to accidentally knock himself out with his own quadcopter drone.
YouTube user doctorsnaketown uploaded hilarious footage of himself flying a ZMR250 mini racing quadcopter drone around his garden on a bright sunny day and somehow managing to crash it – into himself.
The ZMR250 is a racing sport drone for hobbyists that can be bought online as a DIY assembly kit, and it comes with a camera and a video transmitter promising "zero delay" in transmitting a live feed of the drone's camera to the drone operator.
Nevertheless, when doctorsnaketown sent his drone on a super-fast lap around his garden, he failed to notice on his remote controller that the drone had taken a circuit round the garden and was now coming up fast directly behind where he sat in a group of deck chairs.
The result was the drone whacked him squarely on the back of the head. Fortunately for the drone operator, the small racing drone only weighs 554g, which is only a third of the weight of a conventional consumer model.
On YouTube, doctorsnaketown wrote: "A little slapstick lap where I boomerang max speed into my own noggin! Luckily, I did not hurt myself, other than a bump on the head. Be safer than me! I am going to revamp my pilot seating zone once my head feels better ;)"
People are being hit on the head by drones
Concerns about improving regulations of civilian drones are on the rise as a number of incidents have occurred in the past two months.
On Sunday 28 June, a 25-year-old woman was knocked unconscious by a consumer drone filming a Pride parade in downtown Seattle, US, when it crashed into a nearby building and dropped on to a group of people watching by the roadside.
Luckily, the woman's boyfriend caught her before she fell to the ground and she was treated at the scene. Seattle police put out a description of the drone and its pilot, but did not specify the drone's make or manufacturer.
The pilot eventually came forward to the police on 1 July and detectives are now investigating but it is not known if he has been charged.
The difficulty in regulating civilian drones
In May, a similar situation happened when a DJI Phantom drone crashed into a toy shop and hit two people who were watching a Memorial Day parade in Essex County, Massachusetts.
The people were wounded only superficially and declined medical treatment, so the police decided not to press charges against the drone operator, who admitted responsibility immediately and was very apologetic.
It is not known where YouTube user doctorsnaketown is from but from his speech, he could be from the UK, where police do not tend to press charges unless drone offences break existing laws such as invasion of privacy. Otherwise, the UK Civil Aviation Authority is required to bring charges against offenders. In the US, though, the problem is the country is far too big.
US drone analyst Colin Snow told IBTimes UK: "I honestly don't have an answer for what lawmakers should do. In the US, we also have state laws, not just national laws. That's 50 different states, 50 different laws, 50 different law enforcement agencies you have to regulate."
© Copyright IBTimes 2023. All rights reserved.