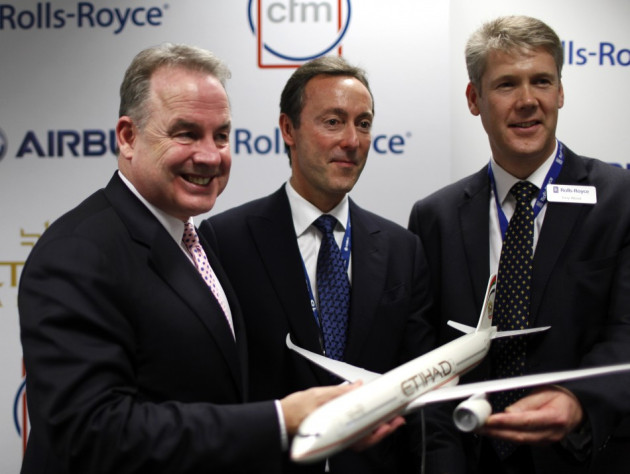 Airlines in the Middle East have announced new plane orders worth a whopping $192bn (£119bn, €142bn) at the Dubai Airshow - boosting Britain's aerospace sector within its parts supply industry.
The order for 50 Airbus A380 superjumbos, placed by Dubai's Emirates Airlines, would support as many as 2,500 jobs in the UK, as the wings of those planes are made at a factory in North Wales.
"This major new order protects over 2,500 jobs in Filton and Broughton and will also be welcome news for the many thousands more workers employed by companies who supply smaller parts to the aircraft from across the UK," Business Secretary Vince Cable said, according to the Telegraph.
"From nose to tail, the Airbus A380 is a good example of great technology designed and manufactured in the UK," Cable added.
Major Gulf airlines signed deals with a frenzy at the biennial aviation splurge, with aerospace behemoths Boeing and Airbus splitting spoils.
The first-day order worth $192.3bn for commercial jets at list prices outstripped the orders from the entire 2007 air show, according to the CNN.
At the air show, Airbus and Boeing also signed deals to buy some $5bn worth of parts and materials from Abu Dhabi. This signals that Gulf states are seeking a reciprocal boost to their economies from the huge orders they placed with the planemakers, according to Reuters.
"While the deals are a big boost to Airbus and Boeing, the world's dominant civil aircraft manufacturers, suppliers in Europe and the United States are worried they will suffer from the growing globalisation of the aircraft supply chain, in which Gulf firms are playing a part."
Etihad, Emirates and Qatar Airways placed combined orders for 393 new commercial planes, with rivals Boeing and Airbus sharing the spoils.
Dubai's Emirates signed a $76bn deal for 150 Boeing 777X planes and 50 Airbus A380s worth $23bn. Abu Dhabi-based Etihad signed up to buy 56 wide-bodied Boeing aircraft, including 25 777X planes, for $25.2bn.
Doha-based Qatar Airlines bought 50 Boeing 777X with for $19bn, with all major Gulf airlines vying with each other to grab Boeing's new commercial aircraft.
"With around $100B worth of orders, this makes it the largest aviation product launch ... We look forward to ... continuing to support Dubai's expansion into a global aviation hub," Boeing Chairman and CEO Jim McNeary said, according to the CNN.