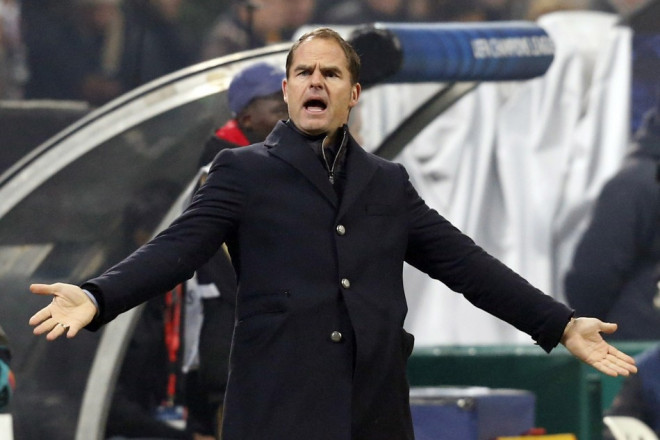 Ajax boss Frank de Boer has rebuffed offers from both Liverpool and Tottenham Hotspur within the last year, brother Ronald de Boer has revealed.
The Dutchman has been heavily linked with moves to the Premier League in the past but his siblings' revelation suggests two offers were submitted to lure the 43 year old away from Amsterdam.
News that the first apparent proposal came from Liverpool could send shockwaves through Anfield, with the indication being that De Boer was being lined up to replace current manager Brendan Rodgers, barely a season into his tenure on Merseyside.
Rodgers has enjoyed a successful 18 months at Liverpool, taking the club from mid-table obscurity to the brink of the Premier League title, coupling shrewd spending in the transfer market with the deployment of several of the club's academy graduates.
The second offer came from Tottenham last January. Spurs parted ways with Andre Villas-Boas in December but despite handing Tim Sherwood an 18-month deal at White Hart Lane, his lack of managerial experience makes him vulnerable in the summer particularly should the club fail to qualify for the Champions League.
Speaking to talkSPORT, Ronald de Boer said: "Frank has already denied Liverpool and Tottenham.
"Tottenham wanted to take him in January, but Frank said no. He also said no to Liverpool last year. He thought he was still not ready and wanted to learn more.
"Now he's ready though. We'll have to wait and see [what offers he gets]. It's important for Frank to get the right club otherwise he won't leave Ajax. He's very happy there."
Though Liverpool and Tottenham have enjoyed decent success this season, the admission that De Boer was offered the opportunity to replace both Rodgers and Sherwood within the last year could work to unsettle both managers.
De Boer has enjoyed unrivalled success at Ajax, winning three successive Eredivisie titles in his first three seasons at the club after being appointed in 2010.