Police in the Netherlands using bald eagles as a means of combating the increasing prevalence of illegal drones in public places.
In video footage published to the Netherlands Police YouTube channel, the birds of prey can be seen swooping over the unmanned aerial vehicles (UAVs) and plucking them out of the sky.
The Dutch National Police have teamed up with raptor security company Guard From Above to test a number of ideas of how to capture and stop illegal drones from operating. A statement from the police said: "The bird sees the drone as prey and takes it to a safe area, a place where he does not suffer from other birds or humans".
With UAV usage on the rise there have been increasing stories of near misses or collisions involving drones. A report by London-based think tank the Remote Control Project in January also stated that drones could be used by terrorist groups as "simple, affordable and effective airborne improvised explosive devices".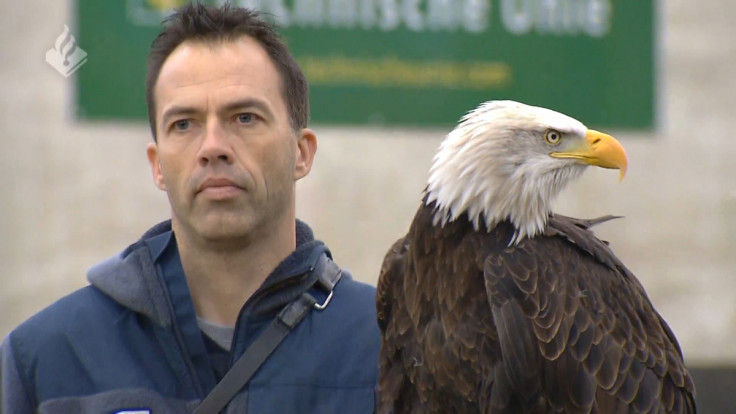 Guard From Above founder and CEO Sjoerd Hoogendoorn said in a statement released to the media: "Sometimes a low-tech solution for a high-tech problem is more obvious than it seems. This is the case with our specially trained birds of prey. By using these birds' animal instincts, we can offer an effective solution to a new threat."
With the eagles trained to see drones as meals, the predatory birds could become an effective, if novel, solution to deal with rogue UAVs. But there are also concerns that the animals could get hurt by the blades on a drone.
The decision on whether the police will fully adopt eagles to combat drones will be made in a couple of months, according to local reports.