Mobile phone network EE will be providing a free Wi-Fi hotspot at the Glastonbury Festival by using a specially modified tractor.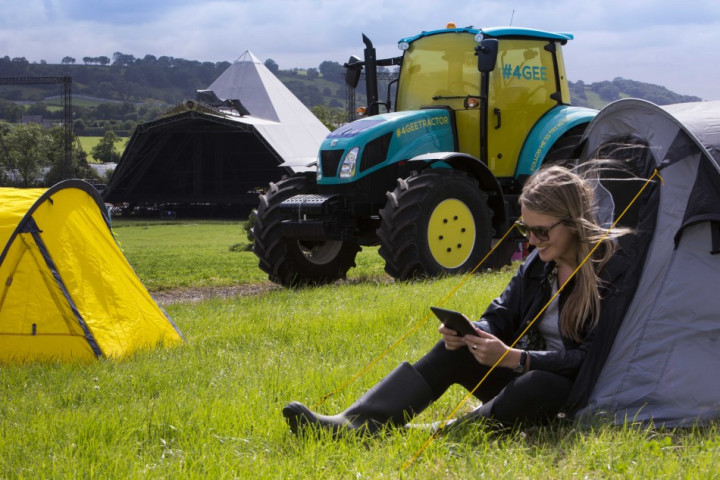 EE has borrowed a tractor from Worthy Farm, which gives up its land for the music festival, and has installed a Wi-Fi hotspot powered by the company's superfast 4G network, bringing free internet to visitors stood nearby.
The modified New Holland tractor, which is powered by eco-friendly bio-diesel, will drive around the 900-acre site in Somerset and EE will use its company Twitter account to inform visitors of its current location.
Inside the tractor, EE has installed networking equipment which provides a mobile Wi-Fi hotspot to smartphone and tablet users up to 10 metres behind the vehicle. Users of any mobile provider will be invited to log into the network, which they can use to tweet, update Facebook, browse the web or check the all-important weather forecast.
Spencer McHugh, brand director at EE, said: "We couldn't be more excited about this year's Glastonbury where we will be installing the first ever superfast 4G network at a UK festival to help those on site stay connected.
"Our 4G Tractor demonstrates the innovative approach we're taking to bring the fastest mobile internet speeds to the UK in a uniquely Glastonbury way and uses similar technology to our fleet of 4G cabs trialled early this year."
EE, which launched its 4G network in late 2012 and remains the only UK provider of such a network, introduced 50 4G connected cabs to London and Birmingham in April and offered free Wi-Fi to passengers for three months.
The network recently announced plans to further expect its 4G network over the summer, and unveiled plans to offer pay-as-you-go data tariffs, as well as the ability to share a single 4G connection across multiple devices.
By the end of June, 4G will be available to 55% of the British population, and EE will be expanding its network to cover airports, shopping centres and major commuter routes over the coming months.