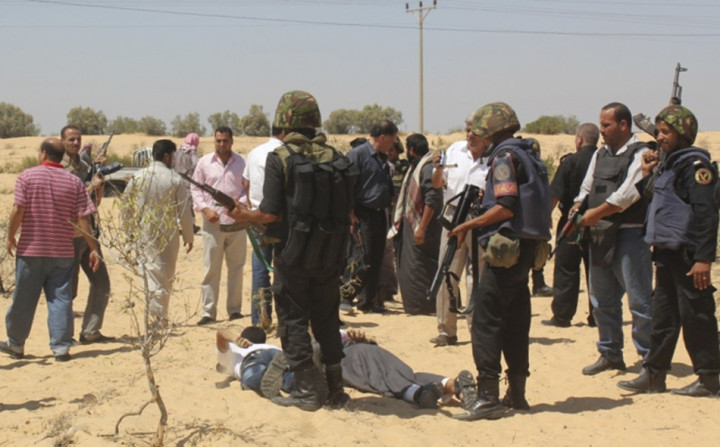 The head of a Bedouin tribesman has been found in the desert by Egyptian police as instability and killings in the northern Sinai peninsula continue to escalate.
The gruesome discovery in the Muqatta area of northern Sinai points to an inter-tribal feud, said police. The decapitated man was said to be Manazil Bereikat, who had been kidnapped by Bedouin Islamist militants who accused him of killing fellow tribesman Ibrahim Ouda Bereikat.
Ibrahim Ouda Bereikat, a jihadist extremist from the same tribe as Manazil Bereikat, is believed to have died when his rocket launcher blew up in his face as he prepared to launch missiles across the boder into Israel. The rebels claimed that his rocket launcher had been sabotaged.
The body of the beheaded man has not been found.
The peninsula has been the scene of spiralling violence between Islamist militants and Egyptian and Israeli forces after masked militants killed 16 Egyptian soldiers at a border outpost near the Rafah crossing into the Gaza Strip.
No one claimed responsibility for the attack but Sinai's jihadist groups were at the top of the list of suspects.
Egyptian intelligence believed Ibrahim Ouda Bereikat was involved in the attacks. He was arrested and released after questioning.
He died three weeks later in mysterious circumstances near the Israeli border. Some reports said he was killed by an Israeli military drone while others said he was blown up by a landmine. His fellow rebels said he had been murdered by rival tribesman Manazil Bereikat.
Since the border post attack the Egyptian military has launched an unprecedented campaign to crack down on Islamist militants in Sinai, killing 11 and arresting 23.
The operation, backed by tanks and helicopters, is the largest in the peninsula since 1979.
Egypt's freedom of military action has been limited in the area under the terms of the peace accord with Israel.
Egypt Arrests Six 'Terrorists' in Sinai as Military Offensive Continues
Sinai Unrest: What Consequences for Israel, Egypt and Gaza? [ANALYSIS]