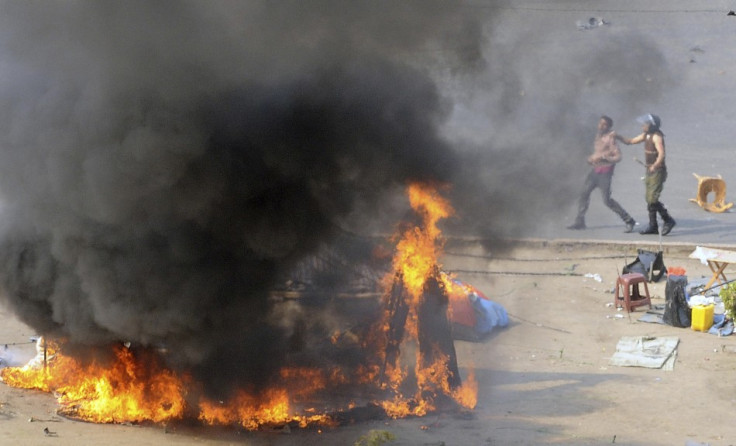 Clashes between the army and protesters continued to escalate on Tuesday, a day after Egyptian general said protesters "deserve to be thrown into Hitler's oven."
In comments published by the Egyptian newspaper Al-Shorouk, the adviser general Abdel Moneim Kato described the protesters currently involved in a standoff with the military as delinquents, "who deserve to be thrown into Hitler's ovens."
The retired general's comments came hours after the Supreme Council of the Armed Forces (SCAF) said authorities had foiled a plan by protesters to set the parliament's building on fire.
Since November protesters have staged a sit-in camp to contest the nomination of Prime Minister Kamal al-Ganzouri, who they say sides with the military.
Opposition figure Mohamed ElBaradei took to Twitter to denounce the comments, saying Kato had: "a deranged and criminal state of mind!"
In a second Tweet written in Arabic ElBaradei added: "The likes of Kato belong in jail, not in power."
Meanwhile clashes between the army and protesters continued and early on Tuesday riot police raised Cairo's Tahrir Square and attacked protesters. Reports suggest at least one protester is in critical condition.
The new clashes come as violence escalated over the week-end with the army accused of leading a severe crackdown on protesters.
Pictures of Egyptian troops beating up and dragging a woman who had had her clothes ripped off surfaced on Monday, angering Egyptians and discrediting the army.
2011: The Women of the Arab Spring
The military took power after an 18-day uprising that led to the stepping down of former president Hosni Mubarak.
However protesters are angered by the lack of reforms and want the military to hand over power to a civilian government.
Since taking power the Army and security forces have been accused of a severe crackdown on protesters and political activists and of sexually abusing women detainees.