We all like to think we're smart enough to sniff out an advertising or brand awareness ploy but, evidently, we are still suckers for the evolving art of viral marketing, following the Ellen Degeneres Oscars selfie sham.
For those who live under a rock or haven't gone on the internet in the last 48 hours, the Academy Award host Degeneres snapped an 'impromptu' selfie, cramming in as many gorgeous, gleaming faces of Hollywood's elite, on her smartphone.
The selfie 'broke Twitter' and has racked up over three million retweets from the last count but after the event, Samsung are defending claims that Degeneres' snap was a shill and nothing too dissimilar to product placements in movies.
Samsung claim it was not an orchestrated marketing stunt and is "delighted" with the "great surprise for everyone" and it was "delighted to see Ellen organically incorporate the device into the selfie moment."
Oh, please.
While I have to admit it I was initially sucked into the ploy by retweeting the selfie too, not even Bradley Cooper's prevalent grin in the picture could bat away the irritation of being effectively duped into the stunt.
Samsung can deny all they like but Degeneres tweeting the entire night from her iPhone, rather than from the sponsor's – Samsung – provided phone other than for the picture, is all a bit too coincidental.
Nevertheless, writing about it now is fuelling the marketing fire.
But, what we have to realise is that the Oscars selfie is a sign of the times in how advertising and marketing has evolved and we now have to get with the programme.
Remember that 'bloody big mango' that was stolen? I do – reminiscent of the Peachoid for House of Cards fans - I couldn't stop laughing at it for about half a day.
I mean, look at it.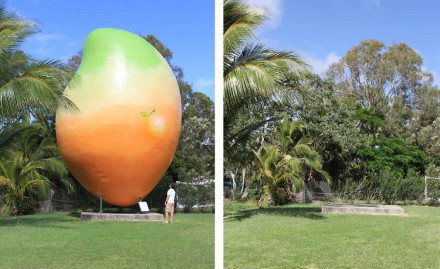 However, all is not what it seemed, as the ridiculous story of someone stealing a 10 tonne mango statue ended up being a hoax by Nando's.
Yes, even your favourite bone-dry chicken emporium managed to pull the wool over our eyes. However, it also put the Bowen, Australia on the map for non-Aussies.
In the UK, price comparison website, gocompare.com manages to snap up market share by effectively being irritating. Apparently, punters can't get enough of these types of ads:
However, after building major brand awareness with ridiculous adverts, the group knew it had to step up its marketing campaign and bombarding the audience with traditional ad space was not enough.
Initially, the Twitterati shared their amusing 'defaced' gocompare.com billboard findings with the rest of the web: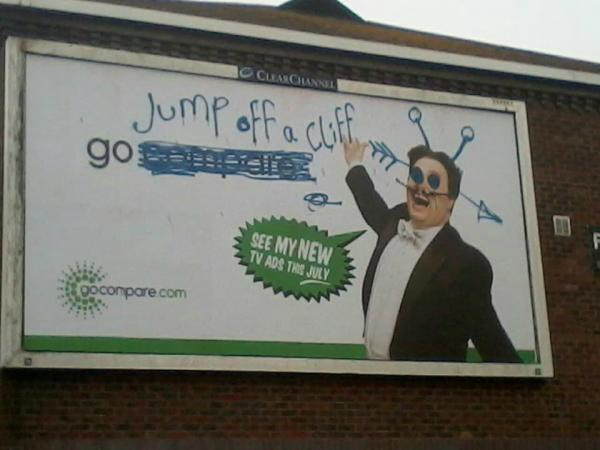 But lo and behold – it ended up just being another example of viral marketing.
So face it people, just like receiving an email from the Nigerian authorities that you have won their state lottery that is worth that more than the GDP of the UK, if something is too funny or too good to be true – it often is.