Emirates A380 jetliner flips business jet upside down in freak mid-air accident
An Airbus A380's wake turbulence caused a Challenger 604 business jet to flip and fall 10,000ft.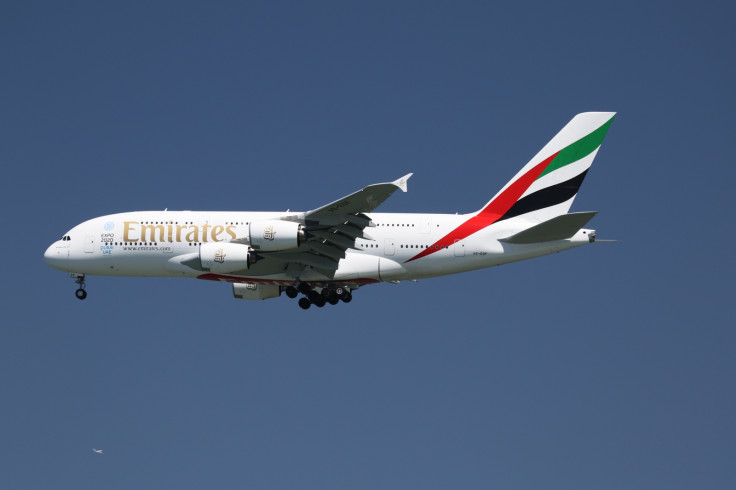 A harrowing freak air accident that has only just been revealed saw an Airbus A380 commercial jetliner flown by Emirates cause a much smaller business jet passing beneath it to flip upside down and plummet thousands of feet. The incident is a sharp reminder of why passengers should always wear their seat belts.
According to information obtained by the Aviation Herald, on the morning of 7 January an Emirates Airbus A380-800 was flying from Dubai to Sydney. While the aeroplane was en route over the Arabian Sea, roughly about 630 nautical miles southeast of Muscat, a Bombardier Challenger 604 business jet operated by German carrier MHS Aviation passed by 1,000ft beneath it.
A thousand feet might seem like a great distance between two aeroplanes, but the wake turbulence caused by the A380 jetliner was so great that one minute after the airliner passed by above, very high G-force sent the business jet into an uncontrolled roll that turned the aircraft upside down at least three, if not five times.
Both of the plane's engines flamed out, its Ram Air Turbine would not work and the aircraft plunged 10,000ft.
Fortunately, the aircraft's pilots managed to regain control over the Challenger 604 using "raw muscle force" and restarted the engines. The aeroplane was diverted to Muscat airport in Oman for an emergency landing and several of the nine people onboard the aircraft were taken to hospital, with one person sustaining serious injuries.
German authorities investigating damage to aircraft
To give you an idea of scale, the Airbus A380 is 73m long and usually weighs between 386-560 tonnes. In comparison, the Bombardier Challenger 604 is just 21m long and weights 17-21 tonnes.
The damage sustained by the Challenger 604 was so extensive that the aircraft has had to be written off. Germany's Federal Bureau of Aircraft Accident Investigation (BFU) is leading the investigation even though the incident occurred in international waters.
Wake turbulence forms behind an aircraft as it passes through the air. It occurs in the vortex flow behind the aircraft's wings and is due to lift generated by high pressure below the wing and low pressure above the wing, which creates a sort of horizontal 'tornado' behind the wings that sinks downwards in the air until it dissipates.
Usually this phenomena is considered to be most hazardous if it occurs when a jetliner is taking off or landing, which is why such care is taken to allocate slots to aircraft at airports. However, there have been several incidences where wake turbulence has caused incidents in mid-air in the past.
Wave turbulence is scary and often caused by A380s
In September 2012, another Emirates A380 caused trouble for a Virgin Australia Boeing 737 near Bali, but both aeroplanes reached their destinations safely. Prior to that, in October 2011, yet another Emirates Airbus A380 flying from London to Dubai caused an Air France Airbus A320 to roll left to a bank angle of about 25-30 degrees, but no one was injured.
Also in October 2011, a Qantas Airbus A380 flying from London to Singapore caused a British Airways Airbus A320 to roll over 50 degrees and the autopilot disconnected over Germany. Four people on the British Airways flight had to be treated for minor injuries.
In February 2011, a particularly serious incident saw a Singapore Airlines Airbus A380 flying from Paris to Singapore cause an Air France Boeing 747 to drop 200ft within 15 seconds and roll left and right. Fortunately, no one was injured and both aeroplanes reached their destinations safely. Another less serious incident occurred in 2009 affecting an Emirates Airbus A380 and an Armavia Airbus A320 with no injuries.
Apart from avoiding passing by other passenger aircraft in the air, the best advice for passengers is to always ensure that their seat belts are fastened during the flight. Air traffic controllers all over the world have been told to exercise particular caution when A380 jetliners cross over other aircraft.
IBTimes UK has contacted Emirates for comment about the incident and its potential safety implications.
Airbus spokesperson Marie Caujolle told IBTimes UK: "We are aware that an investigation is ongoing to determine the origin of turbulences encountered by a jet. At this stage nothing indicates an Airbus A380 aircraft is involved and we cannot comment further on this incident, please contact the German BFU."
© Copyright IBTimes 2023. All rights reserved.