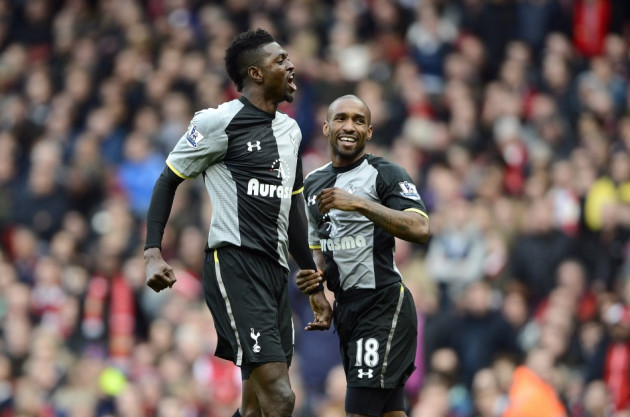 "I have tried to keep my belief but I cannot get any lower. If I am lower than this it means I am dead." Emmanuel Adebayor, 3 November 2013
A footballer's desperate cry for help has become no less cringe-worthy, nor pathetic as the Premier League's profile has grown. Our latest mercenary is Tottenham Hotspur striker Emmanuel Adebayor, who hasn't played a single minute for the club this season and by all accounts, is at death's door.
I have little or no experience of being left out in the cold by a professional football club, but I can imagine it to be similar to shopping in Ikea, with no prospect of reaching the check-out before planet Earth freezes over. Adebayor's next Spurs appearances shows no sign of coming sooner.
Amid a run of just nine goals in 10 league games this season, Adebayor has cut a frustrated figure as Tottenham's miss-firing forward line have struggled to gel. As a scorer of 187 career goals for club and country, you can understand why.
After eventually wriggling free of Manchester City in 2012, Adebayor scored just eight goals in 35 appearances last season, his poorest return for six terms, and one which forced manager Andre Villas-Boas to sign Spanish striker Roberto Soldado.
Despite Soldado having scored just one league goal from open play this term, Adebayor appears to be behind Harry Kane, let alone Soldado and Jermain Defoe in the pecking order at Tottenham and confusion over whether he has consistently trained with the club's first team suggests his immediate future lies away from White Hart Lane.
Besiktas and Queens Park Rangers have both been mentioned as potential destinations for Adebayor, but having only originally joined Tottenham after they smashed their wage bill to offer a deal worth £170,000-a-week, money will likely be at the centre of negotiations and makes a move to Eastern Europe all the more likely.
But given how leagues in Turkey and Russia have attained a retirement waiting room reputation, Adebayor, 29, without a World Cup to look forward to next summer, may still feel he can make a valuable contribution among Europe's elite.
For a destination where opportunities will be frequent, the stage is meteoric and the surroundings are familiar, Adebayor need only look across north London at former club and Premier League leaders Arsenal.
Arsene Wenger's search for a striker is more than well documented. The workload taken on by Olivier Giroud means his fitness is precarious at best while alternative options start and end with the hapless Nicklas Bendtner. If The Gunners wish to fight on two fronts in the New Year, let alone claim their first piece of silverware since 2005, an additional attacker is required.
Adebayor possesses all the components Wenger needs. Despite a deadline day splurge on Mesut Ozil, Wenger is unlikely to spend as lavishly in a January window which seldom produces value. Furthermore, Adebayor has experience at the highest level in Europe and with game time, has a natural eye for goal.
As he has already proven in a former life with Arsenal, his physique is made for the role that will be demanded. A pivot to a free-flowing midfield, it will be like Giroud is never away.
As with any deal there are all manner of obstacles. Tottenham's willingness to part with a player who, despite Villas-Boas declaring he has a future in north London, could assist a top four compatriot, not least their deadliest rivals is perhaps the greatest.
In addition, few Arsenal fans will have forgotten Adebayor's first appearance against them for Manchester City in 2009, when he sparked chaos in the away section at the Etihad Stadium by celebrating his second half header in front of the travelling Gunners support. Animosity towards him re-joining would be substantial.
Such factors make any proposed move for Adebayor unlikely, even farfetched. But given the player's discontent at White Hart Lane and Arsenal's lack of attacking depth, it's a match made in football heaven, not to mention fantasy.