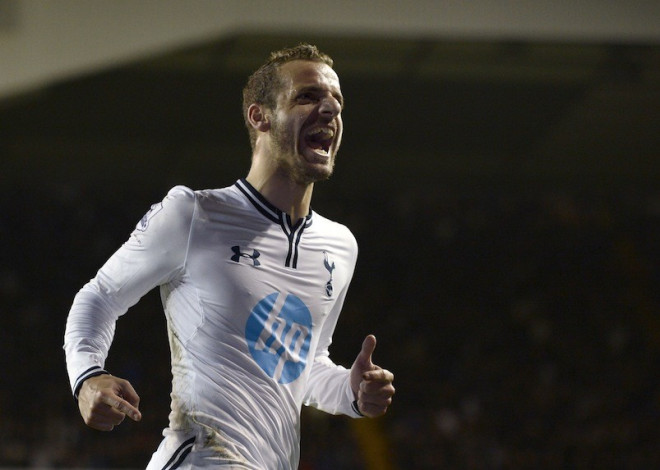 Emmanuel Adebayor believes that Roberto Soldado's struggles following his summer move to Tottenham have been due to his lack of confidence, but he hopes that the Spaniard's latest goal against Cardiff City will be the turning point in his career at White Hart Lane.
Tottenham signed Soldado from Valencia last summer for a fee of £26m but the striker have failed to replicate his form in La Liga, where he scored 24 goals last season.
Asked by Tottenham's official website about Soldado's adaption to life at the club, Adebayor said: "Strikers always go through difficult moments and he has been through that.
"You start doubting yourself and you think 'when am I going to score again?' A striker playing with confidence and without confidence is a very different thing, believe me."
The Spanish international has scored just six Premier League goals in 20 starting appearances this campaign. But signs of a turnaround were evident last weekend as he led his side to a victory over Cardiff, scoring the only goal of the game to put an end to a nine game goal-drought.
"He's one of the best strikers in the business and hopefully this goal will be key for him. I'm delighted for him," said Adebayor, who provides Soldado with the assist.
"Cardiff came here to survive, we had two or three chances, took one and that gave us the three points we needed. Perhaps next time we'll find the second goal and that will make it easier for us. The most important thing was to win the game for the team, the club and the fans and we did that."
Soldado has also been keen to heap praise his team-mate Adebayor, claiming his job is made much easier when they play together.
"Adebayor makes my job much easier. Sherwood started with 4-4-2 and we played together. Then he proved with 4-2-3-1 and I spent some games in the bench but I've played the last two games with him and I fell fine," Soldado said.