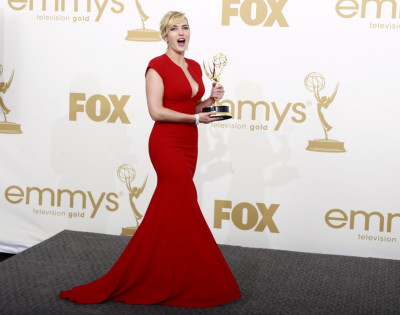 The 63rd Primetime Emmy's ceremony took place in Los Angeles Sunday evening, and Kate Winslet and "Downton Abbey" were among the big winners, making it a night of triumph for British talent.
The awards were hosted by "Glee's" Jane Lynch, herself shortlisted for best supporting actress in a comedy series.
Winslet, who already has an Oscar and a Grammy, picked up the lead actress in a miniseries or movie Emmy, for her starring role in the HBO drama "Mildred Pierce."
Dressed in a stunning red gown by designer Elie Saab, Winslet paid an emotional homage to her mum in her speech after winning the Emmy Award in Los Angeles.
"It doesn't matter how old you are or what you do with your life, you will never stop needing your mum. And I will never stop needing mine, so thanks Mum." said Winslet.
The 36-year-old played a divorced single mother in the five-part series who decides to open a restaurant business during the Depression.
Her co-star Guy Pearce was named outstanding supporting actor in a miniseries or movie. Pearce joked: "I got to have sex with Kate Winslet many many times."
"Downton Abbey" collected a total of four Emmys including best mini-series or movie, and a supporting actress award for Dame Maggie Smith, who was not at the ceremony.
A taped comedy routine by Alec Baldwin was cut as it contained a joke about the News Corp phone-hacking scandal.
"Downton" writer Julian Fellowes said: "None of us know what's going to be a hit. We make these shows, we hope for the best, but we don't know why sometimes it comes right, and this evening is such a marvellous moment in all our lives because this evening it came right."
Fellowes himself was honoured for outstanding writing in a mini-series, movie or dramatic special, in his speech he said:
"And at the risk of sounding grandiloquent, I would like to thank you, the American industry. Ten years ago you kick-started my second career with an Oscar, tonight you have nurtured it, I am very grateful, thank you."
"Mad Men," the hit American drama series set in the set in the world of advertising half a century ago, proved its worth by winning the Emmy for best TV drama series for the fourth straight year.