If you're fully aware that "rawr xd" means "I love you" in dinosaur and remember when Salt Sweat Sugar was still called Bleed American, a new kind of outing is hitting the London club scene: Emo Night UK.
Emo Night UK works just like your regular nightclub, just with less techno and more studded belts. DJs spin those hits from Paramore, Taking Back Sunday, My Chemical Romance and Panic! At The Disco that kept us sulking throughout the early and mid 2000s.
The event is spreading like feelings at an The Academy Is... concert, with a successful launch on 8 December and a second event programmed for 16 February.
Behind the new trend, are two grown-up kids from Surrey who decided to take the party out of their dorms and to the club scene of New York. Ethan Maccoby and Alex Badanes grew up just outside of London and have been best friends ever since with a shared love of rock music.
From their parents' houses to their dorm rooms to their Brooklyn apartment, what always remained the same was the parties they threw, "blasting music and moshin", Badanes told IBTimes UK.
"At one point the parties started getting a little bit out of hand, it was getting a little bit too much so we decided 'let's move this to a bar,'" he said, recounting how it all started.
The pair contacted a small bar not to far from Badanes' apartment called Cameo – now closed – and asked if they could bring their own laptop.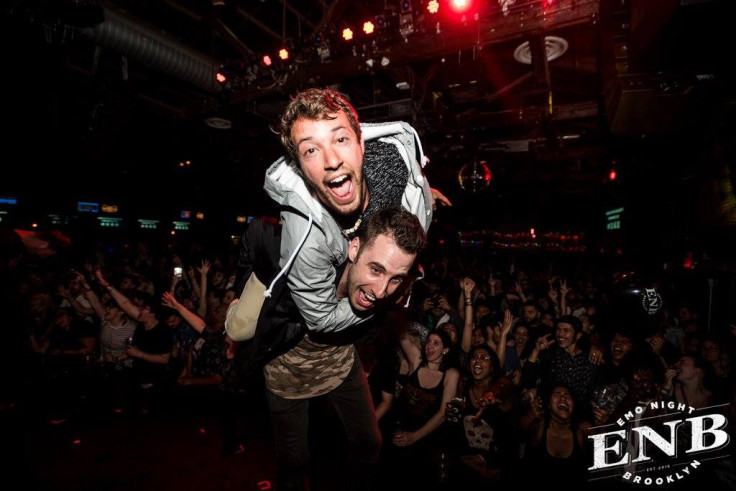 When they realised how popular their parties had become, they decided to organise a proper event and used social media to promote it. On their first night, the pair had 1,000 people lined up in front of Cameo, ready to party like it was 2004.
It all kicked off from there. They soon started organising more events in bigger venues that would always be sold out. Eventually, they performed an after party for a New Found Glory/Yellowcard show in Las Vegas, where they met their other collaborator, Ryan Key.
Collaboration with Ryan Key
Ryan Key, formerly from Yellowcard "had heard of the Emo Night thing, and wasn't really a fan of it at first," he told IBTimesUK.
But when Maccoby and Badanes asked him to guest DJ at the afterparty, he couldn't say no: "Try anything once, right?"
That night, Key made a playlist of songs that he liked and was blown away by the audience's response. "People were losing their mind, it was a full-blown rock show," he says.
"I was immediately sold, to say the least. This is a really cool thing. People are getting together to celebrate that music and it's a really cool thing."
Key went on to headline more than twenty of Emo Night Brooklyn's shows and joined the pair for their official Emo Night UK launch event in London. For him, the events are more than just a grab at people's nostalgia, they are proper concerts, where fans sing, dance and headbang the way they would at a "real rock show".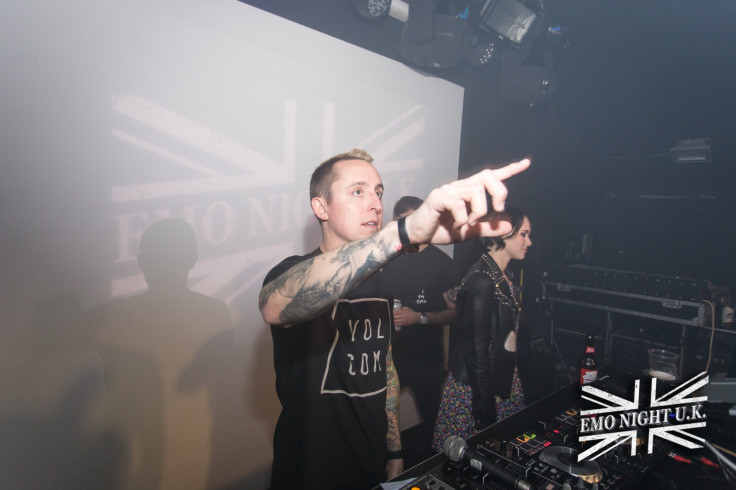 He thinks emo themed clubs owes its popularity to the fact that some of the bands whose songs get played do not "tour as much as they used to" or have broken up. "It's just a way for people to gather with their friends the same way they did 10 years ago."
Emo Night Brooklyn is getting more popular as time goes by, according to Key. He believes more and more people will want to "experience these events, people who want to come experience that atmosphere, experience the feeling that it was to be at those shows. I think they're doing a very cool things for fans of rock n' roll music."